Immigration officials allegedly profiled and detained a Latinx U.S. citizen and longtime government employee in Oregon in what the man claims was a racist case of mistaken identity.

Isidro Andrade-Tafolla is a married father of three who's worked as a road maintenance worker for Oregon's Washington County for nearly 20 years. In a story published Tuesday night, he told The Oregonian that the experience left him shaken.
"It was frightening, disturbing, humiliating and I'm still trying to process being stopped because of my color and my race," he said.
The morning before the run-in, Andrade-Tafolla said he didn't think twice when he saw a van parked in front of his pickup truck as he and his wife were leaving the county courthouse. When a man and woman jumped out of the van and repeatedly demanded his name, he said it didn't occur to him that they were Immigration and Customs Enforcement officials looking to arrest him.
The 46-year-old said the officers never identified themselves as ICE, even though he and his wife repeatedly asked who they were and why they needed his personal information.
G/O Media may get a commission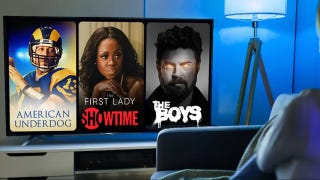 UNDER $1
99¢ Prime Video Channels
"I gave them my name. They said they had a picture of me, that I wasn't here legally, and when they showed my wife and I the picture, there was no resemblance except we were both Hispanic," Andrade-Tafolla told the newspaper. He said the female officer had the photo of the person they were seeking on her phone.
As the couple, who had been attending a hearing in the courthouse earlier that morning, tried to explain that ICE had the wrong man, he said four more unmarked cars pulled up and eight people got out, only one of whom had a jacket with "ICE" emblazoned on it and a badge.
That officer took a look at the photo and looked backed at Andrade-Tafolla before declaring: "That's not him, let's get out of here."
The woman agent, who he recalled sitting near him and his wife in the hearing and following them out of the courthouse, muttered "sorry" and left.
"It was like seeing roaches scatter when you turn on the light," Andrade-Tafolla told the paper. "They just left my wife and I standing there."
A spokeswoman for ICE confirmed to the paper that agents arrested two men outside of the Washington County Courthouse last Monday. She said the men were undocumented and had re-entered the country after previously being deported. She declined to comment specifically on the incident with Andrade-Tafolla.
Many of the other attendees at the Monday protest of recent ICE arrests told local media they have also been racially profiled by agents. Courthouse observers for the ACLU, who have begun keeping watch after the courthouse arrested began, told KPTV that the same agents who approached Andrade-Tafolla are at the same courthouse every Monday to make arrests.
The incident highlights ICE's severely flawed system of rounding up undocumented people for deportation, which President Donald Trump has made a top priority in his administration. The practice of arresting people who are answering summons, seeking protective orders, or conducting other business at courthouses around the country is particularly controversial.
For more from Splinter, follow us on Facebook.