When Daniel Aaron Torres was a U.S. Marine, he served in some of the most violent regions in Iraq, near the city of Fallujah. His time at war left him with permanent side effects, including hearing loss.  But the 30-year-old veteran says he would do it all over again—even though, for years, the country he fought for wouldn't let him come home.
Torres enlisted in the Marine Corps in 2007, during a time when the Pentagon was facing a dwindling number of qualified recruits. The military needed bodies as soon possible, and Torres was a physically fit 21-year-old who wanted to prove he belonged in the United States.
It was a perfect match, except for one thing. "I ended up lying and enlisted as an American citizen," Torres said in a telephone interview with Fusion this week. In fact, Torres was born in Mexico and was undocumented when he handed a Marine Corps recruiter a false U.S. birth certificate.
The lie didn't catch up to him until he had been an active service member for more than three years. Torres was in pre-deployment training, preparing to go to Afghanistan, when he lost his wallet. His long-held secret came out when he tried to replace his identification cards. According to Torres, the military did not press charges and gave him an honorable discharge thanks to his otherwise good record and a number of letters of recommendation from his peers up the chain of command. (Fusion confirmed Torres's dates of service, but the Pentagon did not respond to a request for comment on the circumstances of his enrollment.)
Torres was able to go free, and at first he stayed in the U.S. But at 25 years old, he was still undocumented, with few options to make a living or pay for college. Ultimately, Torres said, he self-deported to Mexico, where he has been stuck for the last five years.
G/O Media may get a commission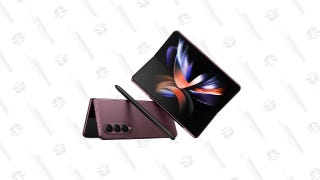 Save Up to $300
Galaxy Z Fold4
Torres was not technically deported, because he was not removed from the U.S., but he still identifies as a deported veteran. He made it out alive from one of the deadliest regions in Iraq, but he hasn't been able to make it back home.
"It's hard enough to make the transition from military to civilian. Now try to make that transition in a completely foreign place where you're the only former U.S. military member," Torres told Fusion.
Now he's been given a second chance. In a decision that lawyers and advocates call unprecedented, Torres has been granted a visa that will allow him to return to the United States to see if he's able to become a naturalized citizen, according to Hector Barajas, director of the Deported Veterans Support House, a Tijuana, Mexico-based organization that helps veterans who have been deported.
Barajas said he's only heard of deported veterans returning to the U.S. on a "humanitarian parole," when a veteran is ill and dying soon. Or when they're dead—the U.S. does allow the bodies of deported veterans to come back to the U.S. for a proper military funeral.
Torres is eligible to apply for U.S. citizenship by default after serving in the military, according to rules set by U.S. Citizenship and Immigration Services. He was honorably discharged and has perfect knowledge of the English language and U.S. government and civics. Because he served in combat in Iraq, he's exempt from having to be present in the United States.
One of the final steps of the citizenship application process includes an in-person interview with a federal representative and a civics test with questions that require applicants to name two Cabinet-level positions or an American Indian tribe in the United States.
If Torres passes his citizenship interview he will have gone from having no legal status in the U.S. to being a naturalized citizen. His case "is going to give a lot of men who have been deported a lot of hope that they may be able to return legally to the United States," said Barajas, who is currently waiting to hear about his own application to return to the U.S.
The Pentagon doesn't advertise the fact that some 30,000 non-citizens are currently serving in the active military. The vast majority of them are Filipino and Mexican nationals who will benefit from an expedited path to citizenship once they successfully pass basic training.
Legal permanent residents can apply to join the military and start the process to become naturalized after successfully completing basic training. Permanent residents who have not served in the military usually can apply for citizenship after five years in the U.S.
Non-U.S. citizen recruits, by year. (Source: U.S. Citizenship and Immigration Service)
But if these permanent resident veterans get into trouble with the law, they risk deportation. Thousands of noncitizens are willing to risk their lives to defend the U.S., but the U.S. doesn't exactly honor them the same way.
"The fact that [veterans] have been deported and effectively banished from the United States has made it extremely difficult for them to ever find a way home," said Jennie Pasquarella, director of immigrants' rights for the ACLU of California, in a telephone interview with Fusion.
"They honorably served their country, and they also served their time in the criminal justice system. They should not serve a life of exile as well. It's time for the United States to bring them home," said Pasquarella, who has represented Torres.
Immigration and Customs officials declined to comment on the number of veterans who have been deported because the data was "not readily available." Barajas said he could not provide an estimate beyond saying he has heard of deported U.S. veterans in 25 different countries. He said he's personally heard of more than 120 deported veterans.
A 2011 memo from Immigration and Customs Enforcement specifically identifies service in the U.S. military as a positive factor that should be considered when deciding whether or not prosecutorial discretion should be exercised."
Daniel Torres is scheduled to enter the U.S. Wednesday around 3:30pm at a port of entry near San Diego.