Guatemalan-born Rony Chávez Aguilar tried to tell agents from Immigration and Customs Enforcement's Chicago Field Office (ICE) that he has been a U.S. citizen for 16 years, but they didn't believe him.
Now Chávez is suing on behalf of immigrants who are locked up without expeditious access to judges—many of them for weeks or even months—at federal detention facilities contracted by ICE in Illinois, Indiana, Kansas, Kentucky, Missouri, and Wisconsin.

According to Chávez's putative class action lawsuit, filed last Monday, he was arrested in Kentucky on drug charges and spent two weeks in a local county jail. He should have then been released, but instead was transferred to an ICE-contracted detention facility to await deportation proceedings. It was then that Chávez told the agents he is a U.S. citizen who came to this country legally in 2001, The Daily Beast reported. That was on March 7.

"Tell it to a judge," the agents allegedly told Chávez, according to his lawyer Charles Roth. The problem was that in the nearly three weeks that Chávez was held after that, he was never brought before a judge. And it would take a lawsuit being filed on March 27 to get him released.

That lawsuit challenges ICE's practice of "detaining individuals prior to initiating removal proceedings against them…without a prompt judicial determination of probable cause, an opportunity to be heard before or concurrent with the initiation of detention, or an otherwise prompt hearing before an immigration judge to understand the charges against them and their due process rights."

G/O Media may get a commission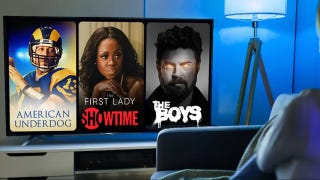 UNDER $1
99¢ Prime Video Channels
It alleges that Chávez's Fourth and Fifth Amendment rights were violated, along with federal immigration law. Roth wants the lawsuit to ensure that immigrant detainees have access to a judge within 48 hours, The Daily Beast noted.

Legal experts will be following this case closely, because it happens at a time when immigration courts are hopelessly backlogged, and the administration of President Donald Trump already is ramping up its massive deportation campaign targeting undocumented—and in this case, documented—immigrants.

According to the suit, ICE's Chicago Office "detains thousands of people every year under similar circumstances," without warrants approved by judges.

The lawsuit added:

During the pre-removal proceedings detention period, individuals are detained without ICE providing a sworn, particularized statement of probable cause; without a prompt determination of probable cause by a detached and neutral judicial officer; without a prompt hearing before a judge to understand the charges against them, receive important advisals regarding their due process rights (including representation by an attorney), and a review of their continued custody.
While it is illegal for immigration authorities to hold U.S. citizens in detention, NPR reported that it happens to hundreds of people each year. An investigation by NPR last year based on two Freedom of Information Act Requests found that from 2007 to 2015, 693 U.S. citizens were held in local jails at the request of immigration officials. An additional 818 U.S. citizens were held in immigration detention centers during the same time period, according to another analysis, NPR reported.