By now, you've likely heard of the tragic case of Jamal Khashoggi, a veteran Saudi journalist, Washington Post columnist, and U.S. resident who Turkish investigators have concluded was killed by the Saudi Arabian regime after entering its consulate in Istanbul last week.
Throughout this ongoing saga, the State Department has issued nothing but tepid platitudes about monitoring the situation, likely in no small part because of the administration's chummy relationship with Saudi Crown Prince Mohammed bin Salman. But a new report in the Washington Post published Tuesday night suggests the U.S. foreign service's inaction may have gone even further, and that U.S. spies reportedly knew the Saudi regime planned to kidnap Khashoggi before it happened.
Per the Washington Post, emphasis mine:
Before Khashoggi's disappearance, U.S. intelligence intercepted communications of Saudi officials discussing a plan to capture him, according to a person familiar with the information. The Saudis wanted to lure Khashoggi back to Saudi Arabia and lay hands on him there, this person said. It was not clear whether the Saudis intended to arrest and interrogate Khashoggi or to kill him, or if the United States warned Khashoggi that he was a target, this person said.
Khashoggi was last seen entering the Saudi consulate in Turkey last Tuesday. After a weeklong investigation, Turkish officials concluded Khashoggi was killed based on orders from the "highest levels of the royal court," according to the New York Times, with the Saudis reportedly sending a specialized team of up to 15 people to carry out the assassination.
Per the Times:
The official described a quick and complex operation in which Mr. Khashoggi was killed within two hours of his arrival at the consulate by a team of Saudi agents, who dismembered his body with a bone saw they brought for the purpose.

"It is like 'Pulp Fiction,'" the official said.
The Crown Prince has spent millions lobbying U.S. lawmakers and special interests in the past few years alone. Khashoggi had been a consistent thorn in the regime's side—well connected and fearless, he frequently criticized bin Salman for cracking down on dissidents, even as he was hailed as a young "reformer" by members of the American media. Saudi authorities have denied all claims that they kidnapped or murdered Khashoggi, although such violence feels well within the realm of possibility:
G/O Media may get a commission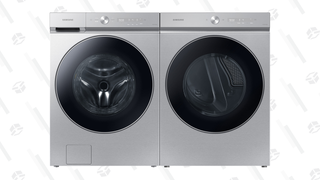 Get $500 back in credit
Last Chance: Samsung Bespoke AI Washer and Dryer Preorder
This should all provoke an extremely strong reaction from the U.S., but the government has a particularly large blind spot where Saudi crimes are concerned (see: all Yemen). Here's what Secretary of Defense James Mattis has had to say about Khashoggi's disappearance so far:
Nobody has any idea what "intellectually monitoring" means. It remains unclear whether the Trump administration will make any notable response to Khashoggi's disappearance, no matter what their intelligence services knew beforehand.