In an election cycle where some candidates are campaigning on building a wall along the U.S.-Mexico border while launching a trade war, tech companies like Uber seem to be promoting the opposite.
The ride sharing application launched last week a new feature called UberPASSPORT, which allows users to arrange trips from San Diego, California to Tijuana, Mexico.
"While there are many places we could have launched this product, we recognize the importance of the largest border crossing in the world and the unique relationship between San Diego and Tijuana–sister cities whose family, culture and economies are closely linked," the company wrote in a press release.
Last Thursday San Diego Mayor Kevin Faulconer was invited to take the first southbound cross-border Uber ride. Faulconer took the opportunity to praise the app for bridging "countries, businesses and families in a way that has never been done before." The cross-border service was made available to the public the following day but so far Uber has not revealed how many people have used the PASSPORT feature.
Uber rides from downtown San Diego to the San Ysidro border crossing go for $20 more or less. For now, the PASSPORT feature is only available in black car service and not Uber x, making the ride much more expensive while adding a $20 crossing fee.
G/O Media may get a commission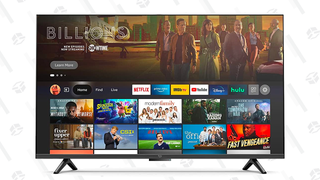 22% off
Amazon Fire TV - 50" Omni Series 4K - Early Access Deal
According to an Uber spokesperson, the San Diego area has roughly 12,000 drivers and 545,000 users. Since 2012 some 15,000 San Diego users have taken Uber rides to get off at the border.
At this moment UberPASSPORT is only hiring commercial licensed drivers that have passed background checks in the state of California. Proper documentation and permits are a responsibility of drivers and users, the spokesperson told Fusion, adding that the company is only offering one-way trips to Mexico because for the time being, Uber is only "comfortable" launching the service southbound.
Uber's business in Mexico, like in many other countries, did not exactly have a smooth start.
In 2013 Uber's kickstart in Mexico City was met with major protests from taxi unions, sometimes sparking violent incidents where cab drivers attacked and vandalized Uber vehicles. Mexican Uber drivers recently took to the streets to demand better pay from the San Francisco-based company.
Uber already offers its services in Tijuana but for the time being users traveling northbound can only be dropped off at the border and use the pedestrian lane to cross.
Guido, a 27-year-old Mexican American who crosses back and forth between Tijuana and San Diego on a daily basis, sees Uber's new PASSPORT service as "a symbolic thing" and claims the real breakthrough would be allowing the user to cross northbound relatively quick.
Crossing into Mexico is easy, as agents rarely check documentation or perform car searches. On the other hand, pedestrian and car lanes from Tijuana to San Diego can extend long distances, and wait times can often take several hours without pre-approved permits for low-risk travelers such as The Secure Electronic Network for Travelers Rapid Inspection (SENTRI).
However, Guido acknowledges the company has been making major strides in both San Diego and Tijuana. "Nobody uses cabs anymore," he told Fusion. He claims Uber's cheap prices and split tariff features have even reduced drunk driving on weekends amongst his friends on both sides of the border.
Uber would not comment on future plans to launch a round-trip service or making UberPASSPORT available in other border towns across the globe.
The new service follows the recent launch of UberENGLISH, which pairs up U.S. tourists with English-speaking drivers in Tijuana. In the past, other companies and even universities have used technology to develop much-needed bordertown solutions such as an app that tells you what time is best to cross the busy U.S.-Mexico border.