Over the weekend, 55 underage sex trafficking victims were rescued and 12 suspected sex traffickers were arrested in Cartagena, Colombia, as part of an international undercover operation. The youngest victim was 11 years old, according to Immigration and Customs Enforcement (ICE).
The sting was spearheaded by former CIA agent and ex-Homeland Security investigator Tim Ballard, who organized an elaborate fake bachelor party and requested underage prostitutes sent to a vacation house full of hidden cameras. The ruse worked. With the help of a team of mostly U.S. volunteers, Colombian authorities collared the suspected traffickers and rescue dozens of victims, most of whom are girls.
Prostitution is legal in Colombia, but trafficking minors for commercial sexual exploitation is not. If convicted, the alleged kiddie pimps could face between 5 and 20 years in prison.
The operation was a joint effort between the U.S. government, the Colombian government, and two NGO's, according to ICE. One of the NGO's is Ballard's organization, Operation Underground Railroad, whose members include a former Navy SEAL, an actress from Walking Dead, and two CrossFit instructors. The organization has executed similar raids in other countries around the world, according to ABC News.
G/O Media may get a commission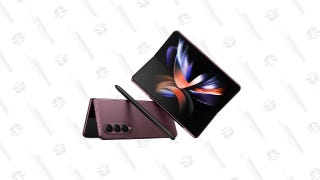 Save Up to $300
Galaxy Z Fold4
Ballard says the work his team does is necessary because governments aren't doing enough to combat commercial sexual exploitation of minors. After spending 12 years working as an undercover special agent in the U.S., Ballard says he became frustrated that he couldn't rescue sex slaves in other countries.
"The problem was that the vast majority of the kids that we would identify, we couldn't save. They weren't U.S. cases," he told ABC News.
Internationally, sex trafficking is one of the most profitable illicit industries, netting an estimated $99 billion a year worldwide.
Sex trafficking is also a huge problem in the U.S. The U.S. Department of State reports that somewhere between 14,500 - 17,500 people are trafficked into the U.S. each year.
U.S. authorities struggle to put sex-traffickers behind bars. By most recent estimates, less than half of those charged in the U.S. were convicted. And most convicted sex traffickers serve prison sentences of less than 10 years.
Most sex-trafficking victims into the United States come from a small province in Mexico called Tlaxcala, according to the U.S. Department of Justice. Watch Fusion's documentary "Pimp City," in which we travel to epicenter of the sex slave trade.
Cristina is an Emmy-nominated reporter and producer. She recently won an Alfred I. duPont-Columbia University Award for her documentary Death by Fentanyl. She attended Yale University and has reported for the New Haven Independent, ABC News, Univision, The Huffington Post, and Fusion.