It's hard to believe someone thought this was a good idea: putting children into jails with their mothers to send the message that you're tough on crime.
Yet that's what's happening in the United States. Over the summer, federal officials were faced with a crush of migrants from Central America, including large numbers of children and families. As part of the solution, they resurrected the concept of immigration-detention centers for mom and kids (dad often gets deported or sent somewhere else).
The scenario is pretty horrifying, but it gets worse. A complaint filed with the federal government last week claims that some women in family detention centers are also being sexually abused by guards.
You might think those allegations, filed by the Mexican American Legal Defense and Educational Fund (MALDEF), would cause the Department of Homeland Security to pause and reconsider its treatment of immigrants. Instead, the government agency is moving ahead with plans to build another family lock-up — a 2,400-bed complex in South Texas. It will be the biggest detention center yet.
According to DHS Sec. Jeh Johnson, the country needs to be prepared for another wave of migrants from Honduras, Guatemala and El Salvador in the coming years.
G/O Media may get a commission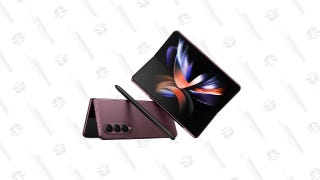 Save Up to $300
Galaxy Z Fold4
"A lot of that spike you saw was definitely seasonal," he said Thursday at an event in Washington, D.C. "We could see the same thing come back again and I want to build against that."
The federal government has 34,000 beds available for immigrant detainees, Johnson said. Prior to last summer's influx, only 95 of those were designated for families.
With so few incarceration options for children, many families apprehended at the border were released and told to check in with federal officials once they reached their destinations. In other cases, parents were given ankle bracelets to monitor their whereabouts.
But the Obama administration didn't want to send a message that immigrants arriving at the border would get a free pass, or "permiso" as it's known in Spanish, to stay in the country. So the administration revived the idea of family detention centers, which quickly opened in Karnes City, Texas (537 beds), and Artesia, New Mexico (672 beds).
More than 68,000 families were apprehended along the Southwest border in the past year, and only a small percentage ended up in one of these jails, due to capacity restrictions. But for those who do, life can be miserable.
In the Karnes City facility, for instance, allegations have surfaced that guards sexually abused female detainees. According to the complaint from MALDEF, staff members removed women from their cells in the evening and morning to engage in sex acts; called women "girlfriend" or "novia;" and traded sexual favors for promises of assistance with their immigration cases.
Michelle Brané, the director of the migrant rights and justice program at the Women's Refugee Commission, said the accusations should be taken seriously. "They're really allegations at this point, but they're consistent with things we've heard of and seen in the past in other facilities, and they're confirmed by other witnesses," she said.
Brané said sexual abuse by guards is "not uncommon" in prisons and detention facilities. But women in family detention centers are particularly vulnerable because "they are going to do whatever it takes to keep their children safe," she said.
Adelina Pruneda, a spokesperson for U.S. Customs and Immigration Enforcement, which oversees the jail, said in an email that the agency has a "zero-tolerance policy for all forms of sexual abuse or assault" and "accusations of alleged unlawful conduct are investigated thoroughly."
The sex abuse allegations in Karnes City awaken ghosts from previous efforts to place kids in an immigration jail.
In 2006, the federal government began sending families to T. Don Hutto, a 512-bed immigration detention center for parents and children. Hutto — a former medium-security prison located 45 minutes from Austin, Texas — introduced a startling new vision of immigration enforcement. True, children would be able to stay with parents. But they would also be forced to live behind barbed wire and dressed in green or blue prison scrubs. Detainees, including children, might need to stay in their cells for as long as 12 hours while guards performed headcounts, The New Yorker reported in 2008.
The experiment soon ran aground. In 2007, the American Civil Liberties Union sued the federal government over the conditions in the detention center; a resulting settlement later that year led to the release of dozens of children and families. Another scandal emerged four years later when a prison guard was arrested and charged with sexually abusing inmates. He pleaded guilty and was sentenced to a year in jail. The Obama administration stopped sending families to Hutto in 2009; it now houses only female detainees.
Many jails and prisons grapple with issues of sex abuse. But ICE has done a poor job of reporting allegations of wrongdoing in detention centers, according to a 2013 report by the Government Accountability Office (GAO).
Investigators documented 70 cases of alleged abuse at 10 facilities. Of those, the GAO found that 28 cases — 40 percent — had not been properly reported to ICE headquarters.
The influence of private businesses in the prison industry further complicates the picture. T. Don Hutto, now closed to families, is operated by the Corrections Corporation of America (CCA), the country's largest for-profit prison company. The corporation is trying its hand at family detention again, and won a government contract to manage the new facility planned in Dilley, Texas.
A spokesperson for CCA told Fusion that decades of experience with federal immigration enforcement positions the company to respond to the unique needs presented by family detention. "We're committed to creating an environment that is open, safe and appropriate for these individuals and meets all federal family residential standards," said Jonathan Burns.
Privatization of any type of jail or prison should be concerning: incarcerations shouldn't be driven by profits.
Immigration activists have taken a firm stance on this. Bob Libal, executive director of Grassroots Leadership, a North Carolina-based organization that wants to extricate private businesses from prison industry, said the new incursions into family detention by the Obama administration are both "incredibly shameful and entirely predictable." After the failure of T. Don Hutto, he believes the government should end the effort to lock up families based on immigration status. "It's almost mind-boggling that ICE would embark on this kind of detention regime," he said.
Jailing immigrant families at $120 per day is significantly more expensive than employing alternative forms of detention, such as ankle bracelets that cost $4.50, according to federal officials. But the Obama administration hasn't abandoned the punitive approach to illegal immigration, even when they're dealing with women and children fleeing violence and poverty. In fact, it's growing.
It's understandable that the administration would want to build detention facilities specifically for families; after all, if you are going to put children in jail, then at least those jails should be family-friendly. But this misses the bigger point: most families don't need to be detained at all. They're poor, desperate and often fleeing atrocious violence in their homelands, and they shouldn't be treated like criminals for striving for a better life.
Correction, Oct. 13, 2 p.m. ET: An early version of this post referred to T. Don Hutto as a "now-shuttered" family detention center. While it no longer houses families, it remains in use as a detention center.
Ted Hesson was formerly the immigration editor at Fusion, covering the issue from Washington, D.C. He also writes about drug laws and (occasionally) baseball. On the side: guitars, urban biking, and fiction.