A United Nations panel on Wednesday condemned President Donald Trump for his bungled response to the violence in Charlottesville and slowness to condemn white supremacy.
As reported by The New York Times, the UN panel did not explicitly name Trump but singled out "the failure at the highest political level of the United States of America to unequivocally reject and condemn" racist violence.
Last week, Trump drew criticism for his slow response to the deadly Unite the Right rally in Charlottesville, VA. The president wavered between condemning KKK and white supremacists while claiming that counter-protesters were equally violent. He also claimed there were "some very fine people" marching alongside the Klansmen and Neo-Nazis.
In addressing Trump's eventual condemnation, the UN also said they were "deeply concerned by the example this failure could set for the rest of the world."
From The Times:
The committee called the Charlottesville violence, which took place mainly on Aug. 11 and 12, "horrifying" and said it was "alarmed by the racist demonstrations, with overtly racist slogans, chants and salutes by individuals belonging to groups of white nationalists, neo-Nazis, and the Ku Klux Klan, promoting white supremacy and inciting racial discrimination and hatred."

G/O Media may get a commission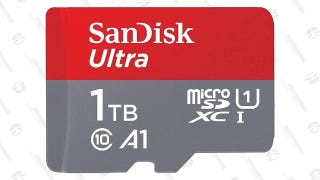 Save $75
SanDisk Ultra 1TB MicroSDXC Card
The UN's decision, which was crafted by experts on the Committee on the Elimination of Racial Discrimination, was dated August 18. But the letter wasn't released until this morning, hours after Trump held a campaign rally in Phoenix. At the campaign rally, Trump attempted to paint himself as a victim of the events in Charlottesville.
The Guardian reported Trump labeled journalists who "do not like our country" as a divisive force and went on to accuse the "crooked media" of "trying to take away our history and our heritage."
As Splinter's Katherine Krueger noted, Trump's language frequently mirrored that of KKK leader David Duke. At one point, he promised the crowd: "We will recapture our dynasty."
According to the Southern Poverty Law Center (SPLC), this is the second year in a row that the numbers of hate groups across the U.S. has increased. The SPLC also noted Trump's ascent to the presidency has energized the "radical right."
The UN's missive to the U.S. also urged the government to "to address the root causes of the proliferation of such racist manifestations." In the past 10 years, the UN has issued similar letters to Burundi, Iraq, Ivory Coast, Kyrgyzstan, and Nigeria, according to The Guardian.