The University of Missouri-Columbia is considering banning women from fraternity houses on Thursday, Friday, and Saturday nights in an attempt to combat campus sexual assault, attracting student and national outrage.
The Mizzou Fraternity Alumni Consortium, a group of fraternity alumni, suggested the ban among a new set of proposed rules for fraternities that were leaked online last week.
The rules would not allow women into fraternity houses between 10 p.m. and 3 a.m. on Thursday, Friday, and Saturdays. They would also ban all alcohol except beer from fraternities, impose mandatory drug testing of students living in frat houses, and forbid fraternities from hosting events outside of Columbia, the city the university calls home.
"These proposals have not been approved," Mary Jo Banken, a university spokesperson, told Fusion. "The chancellor is listening to different people and different ideas. We want to hear from our students."
The policies will be debated at an invitation-only forum for "Greek student leaders" on June 20, Banken said. But on and off campus, the idea of banning women from fraternity parties has sparked strong opposition.
G/O Media may get a commission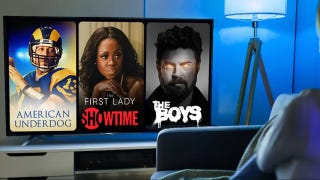 UNDER $1
99¢ Prime Video Channels
"The goal is to address the safety of women students in fraternity houses, but the proposal was written by men who are not entrenched in daily campus, fraternity and sorority life," wrote the university's Panhellenic council, which governs sororities, in a letter to Chancellor Loftin. "By restricting women from certain locations under the guise of 'safety,' this policy lends itself to the notion that women cannot make choices for themselves about their own safety."
National anti-sexual assault groups have also objected. The ban is "shortsighted" and "misses the mark," Kristen Houser, the Vice President of Public Relations at the National Sexual Violence Resource Center, told Fusion.
"If women can't go to fraternity parties, it doesn't mean that sexual assault doesn't happen in off-campus parties, or in cars, or in private homes. It happens all over the place," Houser said. "Men are sexually assaulted on campus too, in the same environment, under the same situations—this is making gender assumptions about sexual violence."
Houser said that if the university wanted to create a real change and make students safer, it should work on educating students instead of putting the ban in place.
The response to the ban on social media has been swift and angry. A Twitter account called @stopLoftin—named for university chancellor R. Bowen Loftin—has railed against the proposals.
Many students also objected to the proposals:
Chancellor Loftin himself has tried to respond to some of these students:
Multiple studies have found that fraternity members are more likely than non-fraternity members to perpetrate sexual assaults. Only one of the 22 sexual assaults and rapes reported to the University of Missouri Police Department since 2010 allegedly happened in a frat house, the St. Louis Post-Dispatch reports.
Casey Tolan is a National News Reporter for Fusion based in New York City.