The financial crisis might have sent students and their families spiraling into student debt, but it hasn't harmed executive pay at public universities.
In fact, salaries for high-level officials at universities have increased dramatically since the economic meltdown in 2008, according to a new report from the left-leaning Institute for Policy Studies (IPS).
But while university presidents have been raking in millions, the financial outlook for students and some professors is getting worse. At the 25 state schools with the highest paid presidents, student debt is growing faster than average.
The worst offenders? Ohio State, Penn State and the University of Minnesota.
G/O Media may get a commission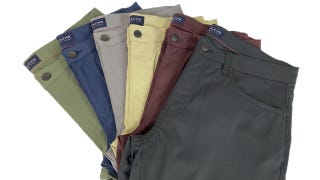 JACHS NY Fall Stretch Tech Pants
The study does not blame student debt on university presidents' high salaries, but it does ask readers to question how a university chooses to distribute its resources.
Administrative pay at the top-paying state universities outranked scholarship spending by more than two to one in 2012. And as presidents' pay increased, the number of part-time adjunct faculty (who are cheaper to employ than full-time, tenure-track professors) increased at more than twice the national average, while the number of permanent faculty declined.
For context, a full-time adjunct makes about $22,000 per year, which is below the federal poverty line for a family of four.
It's not just university presidents pulling in top dollar. A Chronicle of Higher Education survey found that, of public university employees pulling in more than $1 million last year, 70 percent were athletic coaches.
While the boards of trustees who determine these salaries often argue that they are dictated by the market and perfectly fair, the report says the numbers simply don't back up that idea.
Executives at public universities pull in hefty salaries in general, earning nearly $545,000 on average in 2012. But university executives at the top 25 state universities earn almost double that, at about $974,000, an increase of nearly a third from 2009.
And while it's true that scholarship spending increased between 2006 and 2012, it did not rise as fast as executive pay, according to the IPS study.
The report points out, somewhat nostalgically, that 30 years ago, state universities were affordable, their presidents were "more like educational leaders than CEOs," permanent faculty accounted for 70 percent of instructional staff, and students rarely went into debt.
Of course, it's worth noting that today's students are an increasingly diverse bunch and far less likely to come from the upper and upper-middle classes that traditionally made up college campuses.
But the report argues that passing debt relief — like Senator Elizabeth Warren's (D-Mass.) recent proposal — and instituting pay ratio requirements might be a step in the right direction. Is a university president really working 20 times as hard as an adjunct professor?
Most of all, the report urges people to recognize that executive compensation, scholarship funding and student debt are all intertwined. Schools have a finite pool of resources and devoting more of the pie to a president's salary means there is less leftover to help students afford the higher education that is increasingly out of reach.
Emily DeRuy is a Washington, D.C.-based associate editor, covering education, reproductive rights, and inequality. A San Francisco native, she enjoys Giants baseball and misses Philz terribly.