Sochi is nine hours ahead of the eastern United States—12 hours ahead for the people out west—making it difficult for the average Olympic viewer to catch a lot of the events live. That's where we come in.
Everyday we'll be posting daily updates on what happened while you were sleeping, what's coming up later in the day, and what's on the docket tomorrow, as well as any relevant GIFs, tweets and interesting articles.
What You Missed:
Freestyle Skiing - Men's Ski Slopestyle: It's an American sweep! The U.S. swept the podium in Men's Ski Slopestyle with stellar performances from Joss Christensen (gold), Gus Kenworthy (silver), and Nicholas Goepper (bronze). The much-needed medals launch the USA into second place on the total medal leaderboard.
Men's Ice Hockey: The USA Men's Hockey team has begun its olympic campaign in dominating fashion. After a somewhat tight first period, the flood gates opened in the second, with the USA netting six goals. The Americans demolished Slovakia 7-1, courtesy of goals from John Carlson, Ryan Kesler, David Backes, James van Riemsdyk, Dustin Brown and Paul Stastny (2).
A much bigger test awaits the Americans on Saturday as the USA faces Russia at 7:30 a.m.
G/O Media may get a commission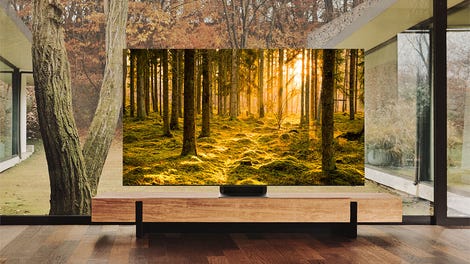 Up to 40% off
Samsung Smart TVs
What's About to Happen (All times EST, * signifies a medal round):
*Luge - Team Relay (11:15 a.m.)
Three must-reads:
1. Initially concerned, Olympic attendees learn to live with terrorism threat.
2. A new federal law prohibiting the sale of alcohol inside sports arenas has many Olympic fans aimlessly wandering for beer.
3. Tinder's a big deal in the Olympic Village.
Tweet of the day

GIF of the day
Frontrunner for the GIF of Sochi so far:

Medal Count as of February 12, 8:20 a.m. EST (total gold, silver, bronze)
1. Norway: (13) 4, 3, 6
2. United States: (12) 4, 2, 6
3. Canada: (10) 4, 4, 2
4. Netherlands: (10) 4, 2, 4
5. Russia: (7) 2, 4, 3

Notable events Tuesday (in chronological order, * signifying a medal round):
*Cross Country - Men's Classic (5:00 a.m.)
*Alpine Skiing - Men's Super Combined Slalom (6:30 a.m.)
*Biathlon - Women' Individual (9:00 a.m.)
*Figure Skating - Men's Free Skating (10:00 a.m.)
*Skeleton - Women (10:40 a.m.)
*Freestyle Skiing - Ladies' Aerials (12:30 p.m.)