What do you do when your country is immersed in a political crisis and the economy is falling apart? You build a big Virgin Mary, and pray for very big miracles.
Venezuela this week inaugurated the "world's largest" monument to the Virgin Mary, and the socialist government now seems to be using it for political propaganda.
The sculpture, which measures 200 feet high in the city of Barquisimeto, has already been visited by thousands of Catholic faithful who are in town for an annual religious procession.
Venezuelan state television, desperate for good news, boasted that "only under the revolution" is such a monument possible. [Marx must be rolling in his grave]
G/O Media may get a commission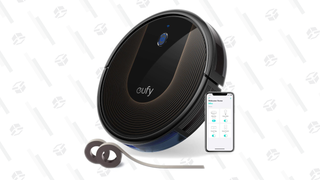 48% Off
Eufy BoostIQ RoboVac
But that's not all.
Near the statue the government placed a huge billboard that lauds the administration of President Nicolas Maduro for pulling off such a feat during times of economic hardship.
"This is a sign of the Bolivarian government's commitment with the Venezuelan people's faith," the billboard reads. Adding, "This monument was built during the year of the economic war, with a barrel of oil selling for less than $30."
Venezuela's economy has been going into tailspin since oil prices started to fall two years ago. The country is currently suffering from severe product shortages that have people queuing for hours outside supermarkets for basic products like chicken, or a bottle of shampoo.
President Maduro says that the shortages are the result of greedy businessmen hoarding products and waging an "economic war" that seeks to topple his government by generating popular discontent.
But independent economists say the shortages could be eased if the government did away with price controls and lifted burdensome foreign exchange controls that make it harder for businesses to import goods.
Opposition leaders say the socialist government has scared away local investors with price controls and expropriations, increasing the country's dependence on imports, subsidized with its now diminishing oil income.
What does the Virgin Mary have to say about all this?  Who knows.
But in a deeply Catholic country, some people are upset by the government's use of religious icons for political purposes.
"This is disrespectful," tweeted opposition leader Henrique Capriles. "The government has to stop putting politics into everything."
Others questioned whether its the right time for the government to spend money on huge religious monuments.
"Ask the virgin to multiply the millions spent on that monument, so that Venezuela can get out of its economic emergency," a twitter user wrote.
Manuel Rueda is a correspondent for Fusion, covering Mexico and South America. He travels from donkey festivals, to salsa clubs to steamy places with cartel activity.