The Venezuelan government is celebrating its election to the UN Security Council as a victory for former President Hugo Chávez and "recognition of the international policies of the Bolivarian Revolution." The South American country won the coveted seat with 181 votes, despite the strong objection by the United States.
President Nicolás Maduro said Venezuela's victory was thanks to "record-breaking support" from the international community, and proof that Venezuela is "a country that is loved and admired by the whole world."
Venezuela's win show's that Chávez, who died of cancer in 2013, "is still winning battles around the world," Maduro told a roomful of cheering cabinet members in Caracas.
The cheers, however, might be short-lived. Venezuela's stumbling economy has recently been dealt another blow by plummeting international oil prices, which have dipped 27 percent since June. For Venezuela, a classic Dutch Disease economy that depends on its underperforming and mismanaged oil industry for 95 percent of its export revenues, the falling price of crude pushes the wobbly country even closer to the brink of ruin. Venezuela, whose oil production has already dropped by 58 percent over the past decade, last week called for an emergency meeting of the Organization of Petroleum Exporting Countries (OPEC) to address the problem, the New York Times reported.
Considering that Venezuela's foreign policy was bankrolled by PDVSA, the once-affluent state oil company that is quickly sliding toward insolvency, Venezuela was probably wise to cash in its chips for UN votes now rather than wait another two years.
G/O Media may get a commission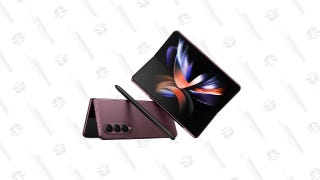 Save Up to $300
Galaxy Z Fold4
Venezuelan financial analyst Henkel Garcia notes that Venezuela's largess for the 17-member Petrocaribe oil alliance is already weakening. The loss of its oil revenue, plus a potential change in political leadership in neighboring Brazil, could weaken Venezuela's standing in Latin America in the coming years, he says.
On the other hand, getting a seat next to permanent member Russia could allow the two chummy countries to form a cabal on the Security Council, Garcia says. "It's still not clear what will happen, but Venezuela could be strengthening its position in one space, as it weakens in another," the analyst said.
The U.S., the only country to vote against Venezuela's bid for non-permanent Security Council membership, blasted the South American country's selection as "farcical."
"At every step – whether it is respect for its own people or support for international stability – Venezuela falls short," U.S. Rep. Ed Royce (R-CA), Chairman of the House Foreign Affairs Committee, said in a statement.
Royce called Latin America's united backing of Venezuela "deeply disappointing."
"This sends the wrong signal not only to Venezuelans – but to all in the region who hope to live under the rule of law where their human rights are protected," the U.S. lawmaker said.
Veteran Latin America analyst Richard Feinberg, who served as senior director of the National Security Council's Office of Inter-American Affairs under President Clinton, also questions Latin America's unanimous support for Venezuela.
"Intra-Latin American diplomacy remains overly constrained by antiquated concepts of cultural solidarity, as opposed to pragmatism or principle," Feinberg told Fusion. "There is still this idea of, 'We are Latin Americans before anything else'."
Angola, Malaysia, New Zealand and Spain were also selected to serve as non-permanent members on the Security Council for two-year terms beginning on Jan. 1. They will join the five permanent members of the Security Council: U.S., China, France, Russia, and the U.K.