During the large wave of anti-government protests that rocked Venezuela on Wednesday, Roberto Redman braved tear gas and rubber bullets to help carry a dead student off the streets.
He would be killed himself a few hours later by gunmen who attacked the demonstrators, becoming yet another victim of his country's unfortunate state of lawlessness and political repression.
Redman's death has provoked outrage among social media users who've been following the anti-government protests in Venezuela.
But the last day of this dissenter's life also sheds some light into the situation in the South American country and shows what it was like on the streets in Caracas that day.
Redman, a 28 year-old pilot and amateur runner, joined anti-government demonstrations early on Tuesday. He exhaustively recorded the day's events on Twitter by posting his own tweets and retweeting the messages of others present.
G/O Media may get a commission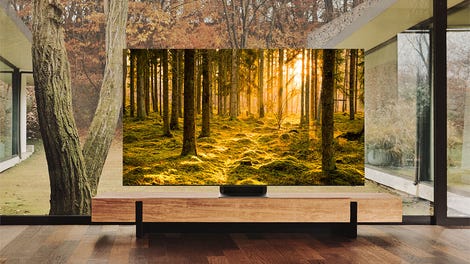 Up to 40% off
Samsung Smart TVs
As seen in the picture above, the early part of the demonstrations were peaceful. According to the Associated Press thousands marched towards the Federal Prosecutors office to demand the release of 13 people who had been arested in previous protests.
They were also demanding the resignation of Venezuelan President Nicolas Maduro, whom they blame for widespread food shortages, high inflation and skyrocketing crime rates.
Protesters in Venezuela face the challenge of not having their activities covered by the local media, who have been mostly silenced by the government. Redman pointed out this concern in one of his tweets, explaining that NTN 24, a Colombian channel that was giving live coverage of what was going on, had been taken off the air by cable providers. He also provided a link that allowed people to see the channel online.
Clashes erupted between students and police after the day had winded down and the majority of the protesters had gone home.
According to Redman's first person account, collectives of armed government supporters attacked the demonstrators, with the police doing little or nothing to intervene.
This has become a fairly common way of breaking up anti-government protests in Venezuela. This type of political suppresion was aslo seen during the recent April elections.
Later in the afternoon, a student was shot in the head, presumably by National Guardsmen who were attempting to disperse a crowd of dissenters.
Redman asserted that he helped carry the injured student [who later died] off the streets.
In this Reuters photograph, which went viral on twitter, we see Redman with a group of students ushering the injured protesters off the streets. He's the one wearing a hat in the back.
Robert Redman (el de la gorra), asesinado en Chacao, ayudó a cargar el cuerpo de Bassil Da Costa es tarde: pic.twitter.com/73pMrZjx7a— Salvador (@salvagoxo) February 13, 2014
Redman then wrote the following, which summarizes how the day has been going for him so far.
"Today they hit me with a stone on my back, they hit me on the nose with a helmet, I swallowed tear gas and I carried a guy who died. What have you done?," Redman writes.
In one of his final tweets, Redman says that he was also shot in the arm, most likely by police.
According to Venezuelan newspaper El Nacional Redman was killed by two men on a motorcycle who attacked protesters on Wednesday night. These same individuals allegedly also shot a woman in the chest. An image of his dead body has been heavily circulated on social media platforms.
Redman was one of three people killed during Wednesday's anti-government protests, which also left more than twenty injured. Among the deceased was a supporter of the current government that showed up to clash with the opposition.
The Venezuelan government is blaming the leaders of the oppostion for the violence, and has issued an arrest warrant for Leopoldo Lopez, one of the leaders responsible for organizing protests across the country for the past two weeks.
Maduro's administration has also slowed down the imports of printing paper, in what opposition leaders describe as an attempt to silence the press.
The government is touting plans to pacify the country and tackle high homicide rates.
But protests are unlikely to disappear if problems like food shortages, high inflation and the silencing of local media continue to take place. With local outlets refusing to cover the demonstrations in depth, Venezuelans might have to continue to rely on Twitter to see what is actually happening on the ground.
Manuel Rueda is a correspondent for Fusion, covering Mexico and South America. He travels from donkey festivals, to salsa clubs to steamy places with cartel activity.