Three Venezuelan political activists were released from jail Monday, including two filmmakers who were arrested in September after making this viral anti-government video.
Carlos Melo, Andres Moreno, and Marco Trejo were released last night from a notorious prison run by the state intelligence agency. It appears to be a gesture of goodwill by Venezuela's government, which recently started talks with the opposition to try to negotiate a political solution to the country's crisis.
The release of the filmmakers Moreno and Trejo was announced by Carlos Ocariz, an opposition politician who is part of negotiations with the government. He said their freedom is a sign that the talks with the government are heading in the right direction.
"We are making progress," the opposition politician tweeted, along with a photo of Andres Moreno.
The third released prisoner, Melo, is a member of a minor political party and was not involved in the controversial film.
G/O Media may get a commission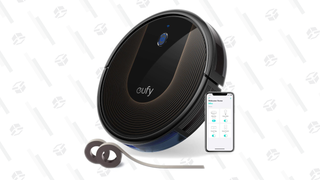 48% Off
Eufy BoostIQ RoboVac
The talks between the government and the opposition started on Sunday and are being mediated by the Vatican. The goal, in addition to defusing the crisis, is to set a new schedule for free and fair elections in Venezuela.
Two weeks ago, Venezuela's unpopular socialist government intervened to cancel a campaign calling for a recall referendum against President Nicolas Maduro, arguing that the opposition had forged signatures.
Opinion polls show that 80% of Venezuelans want to boot Maduro of office.
There's good reason for his unpopularity. Venezuela is suffering its worst political and economic crisis in decades, and analysts predict the economy could shrink by 10% this year. Venezuela's inflation rate is the highest in the world, and the currency has become so worthless that some businesses have resorted to weighing their cash on a scale.
The opposition responded to the government's cancellation of the referendum by starting a political trial against Maduro in congress, as well as organizing street marches and a national strike last Friday. The protests have been building towards a massive march on the presidential palace, which the opposition is threatening to hold this Thursday.
The release of the two political prisoners might be an effort by the government to cool tensions ahead of the scheduled march, but human rights groups say it's not enough. According to Alfredo Romero, director of the Venezuelan Penal Forum, there are still 111 political prisoners in the country, including the popular opposition leader Leopoldo López.
"The government is using political prisoners as bargaining chips," Romero said on a local news program Monday night.
Marco Trejo joined his family on Monday night
The two recently released filmmakers worked for Justice First, a party that has agreed to enter into talks with the government. Three of Venezuela's four main opposition parties have joined the talks, but the fourth, López's party Voluntad Popular, says it will hold out until the government ensures a recall referendum.
In the meantime, there has been no reprieve for Voluntad Popular's prisoners.  One of the party's prisoners, gay rights leader Rosmit Mantilla, on Monday was reportedly denied a medical treatment to remove gallstones, even after securing a judge's order that guaranteed his right to treatment.
Rosmit Mantilla was transferred to a hospital but denied surgery
Mantilla has been held as a political prisoner for two years and seven months, during which time his medical condition developed. Venezuela's human rights ombudsman is pressuring the government to allow Mantilla to see a doctor, but so far there is no talk about releasing him along with the filmmakers.
It seems that in Venezuela, not all political prisoners are created equal.
Manuel Rueda is a correspondent for Fusion, covering Mexico and South America. He travels from donkey festivals, to salsa clubs to steamy places with cartel activity.