Venezuela is threatening to nationalize a major drug store chain that the president accuses of hoarding goods to provoke shortages and turn people against his government.
On Saturday, state intelligence officers detained the top executives of pharmacy chain Farmatodo and interrogated them about the company's alleged role in an "economic war" against the government.
"There are several conspirators," President Nicolas Maduro said on Sunday, without mentioning Farmatodo by name. "They have to be locked up for using their stores to sabotage the Venezuelan people."
Critics blasted the government's latest attack on Venezuela's struggling private sector. They accused Maduro of looking for scapegoats to distract people from his government's inability to respond to chronic shortages of food and medicines.
"It's a populist move to make people think that something is being done to solve the problem, while the government shows no will to make any significant [economic] changes," Gerver Torres, a Venezuelan economist and Gallup researcher, told Fusion.
G/O Media may get a commission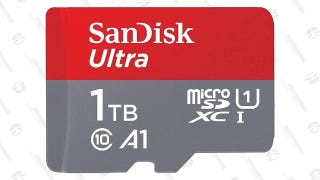 Save $75
SanDisk Ultra 1TB MicroSDXC Card
"When you are done with Farmatodo, then who will you blame for your failures @NicolasMaduro?" TV personality Valentina Quintero fumed on Twitter.
Farmatodo, a Venezuelan chain founded in 1908, has 160 stores and more than 8,000 employees in the country, as well as branches in several other Latin American countries. Its troubles began on Saturday night when officials inspected one of its Caracas stores and accused the company of conspiring to keep lines long outside the door.
The president claims the store's employees weren't working hard enough.
"They had 10 cash registers, but only three were working," President Maduro said in a nationally televised address on Sunday.
The government's solution? Get all the registers working at once.
"We had them operate all the cash registers and the problem was solved," party official Ernesto Villegas said in a tweet.
Maduro said that based on the underperforming registers, he ordered intelligence officers to interrogate the company's executives; the company's stores, he warned, could be taken over by the government and become part of a state-run food distribution network.
"We will promote a public-private partnership," Maduro said, without elaborating.
Farmatodo said in a statement that it is willing to cooperate with the government probe. The company said government inspectors conducted 60 store visits in January, "with satisfactory results."
Venezuelans on Twitter criticized the government for unfairly targeting Farmatodo for its long lines while state-run supermarkets have even longer queues outside their stores. Some questioned if the government officials in charge of those stores should also be arrested.
Venezuelan business leaders insist product shortages are the result of the government's excessive price controls, tough labor laws and strict foreign exchange controls that discourage companies from producing goods domestically. Production of basic goods such as milk and toilet paper would increase if the government changed those restrictive policies, Torres argues; but he doesn't think that'll happen anytime soon.
"If the government changes its economic model, it would lose legitimacy among its followers, the [socialist] party would break up, and conflicts among government officials would emerge," Torres said. "They are stuck between a rock and a hard place, and their only response will be to radicalize their system."
Manuel Rueda is a correspondent for Fusion, covering Mexico and South America. He travels from donkey festivals, to salsa clubs to steamy places with cartel activity.