A Venezuelan beauty queen was carjacked at gunpoint over the Easter holiday, making her the latest high-profile victim in the country's spiraling crime wave.
Edymar Martinez was approaching her home in the coastal city of Barcelona when two armed men forced her from her vehicle, threatening to kill her if she did not hand over the keys.
Martinez, a 19-year-old model and winner of the 2014 Miss Venezuela International Crown, escaped unharmed.
The incident puts a pretty face on Venezuela's growing crime problem; it became an immediate source of buzz on social media in the South American country, where another beauty queen was murdered last year during a highway robbery.
G/O Media may get a commission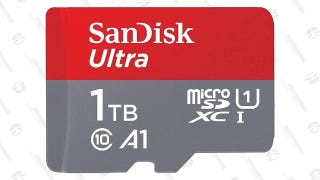 Save $70
SanDisk Ultra 1TB MicroSDXC Card
Venezuela has experienced a dramatic increase in violent crime since the socialist administration of Hugo Chávez took office in 1999; murders and robberies have been steadily on the rise since then, giving Venezuela the dubious distinction of having one of the world's highest homicide rates.
According to the Venezuelan Violence Observatory, a non-governmental group that tracks violent crime, murder rates in Venezuela rose sharply from 25 homicides per every 100,000 residents in 1999 to 82 per 100,000 last year. The groups estimates there were 24,763 murders in 2014, or about 67 homicides a day, making Venezuela the second-most violent country in the hemisphere after Honduras.
Experts say the homicide rate has jumped in part due to corruption in Venezuela's security forces, a lack of gun controls and a weak judicial system.
In January 2014, Monica Spear, a former Miss Venezuela, was gunned down alongside her British husband during a robbery attempt.
The incident, witnessed by the couple's five-year-old daughter, sparked a series of protests over Venezuela's soaring crime rate, prompting new government promises to get tough on crime.
It's hard to measure how successful the government's efforts have been. The Venezuelan government stopped publishing murder and crime statistics in 2005; officials say they'll only publish stats when progress has been made.
In 2013, Interior Minister Miguel Rodriguez broke the government's silence on murder statistics, and told Venezuelan media the country's murder rate was 39 homicides per 100,000 people, and slowly falling. But the UN Agency on Crime and Drugs calculated Venezuela's murder rate at 58 homicides per 100,00 people in 2013.
That figure puts Venezuela's murder rate well above Mexico's, which has 20 homicides per 100,000 people, and dwarfs that of the United States, where approximately five murders occur per every 100,000 people.
Manuel Rueda is a correspondent for Fusion, covering Mexico and South America. He travels from donkey festivals, to salsa clubs to steamy places with cartel activity.