CIUDAD GUAYANA — Abismael Espinoza liked to play Mario Bros on a small laptop he got from the Venezuelan government. He hung out in a dusty park near his house, where he'd occasionally get into scuffles with other kids his age.
He led a relatively normal childhood in one of the city's poorest neighborhoods. But Abismael's life was cut short last September, soon after his parents discovered white lumps in his throat.
Within three days of getting rushed to the hospital, Abismael, at age 8, died of respiratory failure caused by diphtheria. It's a contagious yet easily preventable disease that was eradicated here in the 1990s and is now making a violent comeback as the country's health system is crippled by medicine shortages and personnel cuts due to the protracted economic crisis.
"When he was in the hospital he asked me if what he had was fatal," recalls Abismael's mother, Gregoria Espinoza. "I told him he'd be fine."
Now, Espinoza, who has seven other young children, is struggling to pay off a loan that she took out for Abismael's funeral. She says the local school was so afraid of her son's illness that teachers initially refused to allow her other children back into the classroom.
G/O Media may get a commission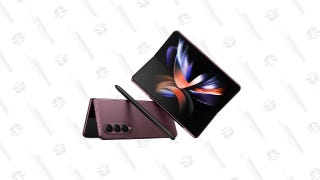 Save Up to $300
Galaxy Z Fold4
"They discriminated against my kids," Espinoza told me, struggling to contain her tears. She keeps a small shrine with a picture of her son and a sign that reads: "Christ is taking care of you."
"It happened so fast," Espinoza said.
Diphtheria can be deadly, but it shouldn't be. It's an easily preventable disease that can be knocked out with a series of childhood vaccines that are widely available almost everywhere else in Latin America.
But in Venezuela many kids are going unvaccinated these days, as the local currency becomes worthless and medical imports dry up. The situation has made children more vulnerable to diphtheria and other preventable illnesses such as measles and yellow fever.
"What we're seeing right now could just be the tip of the iceberg," said a local doctor, who asked to remain nameless for fear of losing her job at a public hospital.
In most countries the diphtheria vaccine, which covers four other illnesses, is administered to children at 2 months, 4 months, 6 months and 18 months. A final booster is administered to kids at age five.
But because of medical shortages, most Venezuelan children are not getting the full cycle of treatments.
According to Venezuelan health ministry data leaked to Fusion, fewer than half of Venezuelan children who were scheduled to get their third anti-diphtheria treatment during the first half of 2016 actually got their shot, and only 30% got their fourth shot. In Bolivar state, where Ciudad Guayana is located, coverage for the third diphtheria shot was 42%, while only 20% of kids received the fourth shot, according to the leaked government numbers.
Doctors in Ciudad Guayana told me the health ministry shared those numbers with them in a presentation in October, but haven't made the information public.
"We weren't allowed to keep the presentation," said a doctor who attended the meeting.
According to daily newspaper Correo del Caroni, 23 Venezuelans have died from diphtheria since the outbreak began in April, and most of them are children. Venezuela's health minister denied those reports on Oct. 12, saying that there were only two diphtheria deaths and four "possible" cases in the country.  But Venezuela hasn't published any standard epidemiological reports since the middle of last year.
In Ciudad Guayana doctors at the Raul Leoni public hospital told me that they have seen more than 30 cases of the disease since July, and eight children have died at that hospital from diphtheria in just three months. Hospitals are not officially sharing stats, but doctors in nearby cities have also reported cases and leaked pictures to the press.
"Before this outbreak, we hadn't seen any cases in Venezuela since 1992," says Ana Carvajal an epidemiologist in Caracas who runs a public health information network. "Many of the younger doctors here have not been given information about how to deal with this."
Carvajal said the outbreak was first detected in Sifontes, a gold-mining region in southern Venezuela. Sifontes is on the way to the border crossing with Brazil, where many Venezuelans go to buy products that are scarce at home. The area has also attracted Eastern Europeans from the former Soviet Union who are involved in the mining industry.
Carvajal says that northern Brazil and the former USSR were both "focal points" for diphtheria, which can be transmitted through coughing and sneezing. The disease can survive inside a person for six months without showing any symptoms.
"I think the diphtheria bacteria has always been around," said Hugo Lezama, a pediatrician in Ciudad Guayana. "But before people were killing it off by using penicillin when early symptoms showed up. They dealt with the disease and didn't even notice it."
The government has recently responded to the outbreak with a vaccination campaign in mining towns and in Ciudad Guayana. The campaign is intended to cover 300,000 people, officials said.
But for some children it's too late for vaccines.
Justin Valdez, 2, was brought into Ciudad Guayana's Raul Leoni Hospital on Oct. 19, after he started showing symptoms of diphtheria, including fever, white lesions on his throat, and difficulty breathing.
He was quarantined in the intensive care unit but had to wait four days for life-saving medicine, known as diphtheria antitoxin.
"When we got in they told us they had some medicine, but it was past its expiration date," says Erika Valdez, Justin's young mother. The medicine, imported from Brazil, had expired in 2009.
While Justin's family lobbied health officials for new supplies of the medicine, the boy's heart became infected by toxins released by the disease. He suffered two episodes of cardiac arrhythmia, and had to be placed on a breathing machine.
"They managed to get the medicine on Friday evening, but it was imported from Russia and none of the doctors here knew how to read Russian," his father Gustavo told me. "So we had to wait another day until the doctors managed to get the instructions translated."
Justin is now slowly recovering from the disease. His father Gustavo waits outside the hospital with a Bible in his hands, and a face mask that he wears when he goes inside. He describes Justin's recovery as a "miracle."
But doctors say they need medicine, not miracles, to treat the the growing number of suspected diphtheria cases.
As one doctor told me, "Our patients have the odds stacked against them."
Manuel Rueda is a correspondent for Fusion, covering Mexico and South America. He travels from donkey festivals, to salsa clubs to steamy places with cartel activity.