Venezuelans are taking to the streets of Caracas today to push back against the socialist government of Nicolas Maduro a day after intelligence agents arrested a democratically elected opposition mayor on dubious charges of conspiracy.
Caracas Mayor Antonio Ledezma was dragged out of his office by Venezuelan state security agents on Thursday evening for allegedly plotting with the U.S. to overthrow the president. The U.S. denies the conspiracy allegations.
G/O Media may get a commission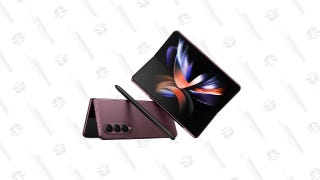 Save Up to $300
Galaxy Z Fold4
Maduro, who on 12 occasions in the past two years has denounced unsubstantiated conspiracies and assassination plots against him, said Ledezma was arrested on orders of the state prosecutor's office and will be processed. It remains unclear what the specific charges or evidence are against Ledezma,whom the president calls "a vampire."
Security video released by Ledezma's office showed around a dozen armed intelligence agents rushing the mayor out of his office. Before his arrest, Ledezma tweeted his office was "being raided in this moment by various police from the regime."
His arrest — one year after the detention of opposition leader Leopoldo Lopez — is the latest in what critics call a government roundup of opposition leaders.
Last year a wave of street protests demanding Maduro's resignation left 43 people dead. Though the protests have quieted since then, Ledezma's arrest last night could be a catalyst for more street demonstrations — at least that's what the opposition, including former presidential candidate Henrique Capriles, is calling for.
Government boosters, meanwhile, have started a hashtag campaign on Twitter called #LedezmaPresoTeQuedas (Ledezma, you're staying in jail).
What prompted Ledezma's arrest?
The conspiracy allegations levied against Ledezma are apparently based on a letter he co-authored  that blasts the government as an "inefficient and corrupt regime." The letter calls for the creation of a National Accord to help the country begin what Ledezma described as a peaceful transition to democracy.
"The people of Venezuela are living in the most difficult circumstances in history, conditions brought about by a regime that for the past 16 years has applied a failed model with impunity and in a manner that is anti-democratic," reads the letter, which was allegedly co-authored by the incarcerated Lopez and former opposition lawmaker Maria Corina Machado. "The disaster that we are living is related to a project run by an unscrupulous elite of no more than 100 people who took over the government to make a totalitarian state with the support of violent groups and corrupt military officials to control society through repression."
The letter warns that the deepening economic crisis could soon lead to a "humanitarian emergency."
"It's clear that the regime will not resolve the crisis and that the government of Maduro has already entered the terminal stage," the letter reads.
The letter ends by calling on the democratic leaders of Venezuelan society to hatch a National Accord with political, economic and social components to "steer the country towards a transition in peace."
Calls for international action
Jose Manuel Vivanco, director for Human Rights Watch, says he expects the situation in Venezuela to get worse. He predicts Ledezma's arrest could be the first of more to come.
"The government of Venezuela has no one to limit its actions," Vivanco told a Colombian radio station this morning. "There are no independent democratic institutions in Venezuela, that will hold Maduro accountable or stop his abuses."
Vivanco called on the international community to do something about human rights abuses in Venezuela.
"Brazil has enormous influence," he said. "If Brazil publicly said something about what is going on, that could have an impact. If the international community stays silent Maduro will interpret it as a carte blanche, a green light, to continue to do what he's doing."
The call for international action is being echoed on Twitter.
Manuel Rueda is a correspondent for Fusion, covering Mexico and South America. He travels from donkey festivals, to salsa clubs to steamy places with cartel activity.
Tim Rogers, Fusion's senior editor for Latin America, was born a gringo to well-meaning parents, but would rather have been Nicaraguan. Also, he's the second hit on Google when you search for "Guatemalan superhero." Tim was a Nieman Fellow in 2014.