Venezuelans grinding through their country's deep economic crisis are turning to a tried and true survival tactic to cope with despair: dark comedy.
Crisis-weary Venezuelans have launched the Twitter hashtag #AdoptaUnVenezolano, or "Adopt an Venezuelan," as an acerbic, but good-humored effort to poke fun at the harsh reality of shortages, skyrocketing inflation and soaring crime.
The hashtag gained traction after Venezuela's cash-starved government announced tighter restrictions on the access to dollars for Venezuelans who want to travel abroad. In a country with at least four wildly varying exchange rates, the change effectively made traveling prohibitively more expensive for Venezuelans.
But more than that, it also served as reminder of the unpredictability of the economic policies of President Nicolas Maduro, who has struggled to revive the economy in a country that sits on the world's largest oil reserves.
To work out their frustrations, hundreds of people took to Twitter jokingly calling on foreigners to help them escape their economic mess by taking them in. Some offered detailed descriptions of themselves in playful pleas.
G/O Media may get a commission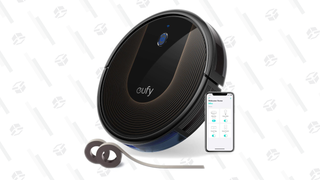 48% Off
Eufy BoostIQ RoboVac
"If you're from Germany, Holland, Denmark, Japan, the United States or the United Kingdom, I'm up for adoption."
"If someone wants to help the #AdoptaUnVenezolano campaign, I'm an easy-going surgeon who cleans and cooks and speaks three languages."
"#AdoptaUnVenezolano, what a sad trend but if someone can help me, I'm a super-friendly worker and I know how to cook. HELPPPPPP!"
One Venezuelan even directly addressed Angelina Jolie, who has adopted three children and is reportedly considered adopting another.
"Angelina, if one day you read this, have mercy on me … Talk to Brad and take me"
Angelina wasn't the only Hollywood star to get a plea.
"Please Robert Downey, adopt me"
Twitter user @MrsYaky said she offered any adopted family an array of talents.
"I'm a journalist, teacher, I can cut hair and do styling, I know about astrology and holistic therapies. I speak English and I'm a great dancer."