MÉRIDA, Venezuela — Thousands of Venezuelans heeded a jailed opposition leader's call to protest for the freedom of political prisoners and demand that the government set a date for parliamentary elections this year.
Dressed in white, protesters took to the streets of Venezuela's main cities on Saturday morning to voice their opposition to the socialist government of Nicolás Maduro. But Venezuela's political prisoners—there are more than 70 according to opposition leaders—were not the only issue on people's minds.
"This is not just about the prisoners," said Hector Uscategui, a law student in the western city of Mérida. "There's a lot of crime and product shortages. You can't find medicines or basic goods. The economy is in tatters."
"Some people have become accustomed to this situation, maybe because they're afraid to protest," said Ana Iris Castillo, a public high school teacher.  "But we can't let our hopes down, we have to keep fighting if we want to have a better future."
G/O Media may get a commission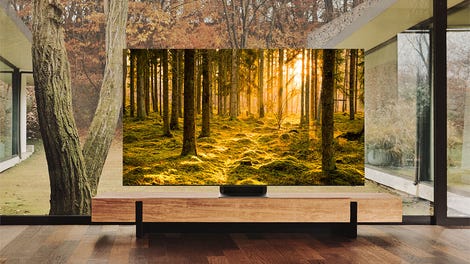 Up to 40% off
Samsung Smart TVs
Castillo said that the salary of most public school teachers now stands at around $25 a month, due to the steep devaluation of Venezuela's currency.  She carried a sign that read "Conformism is limiting our future."
Saturday's protest was planned in jail by opposition leader Leopoldo López, who leaked a video from his prison cell last weekend. In the clip, the National Coordinator of center-right party Voluntad Popular blasted Nicolás Maduro's administration and announced that he was going on a hunger strike until the government released all political prisoners and set a date for congressional elections, which are supposed to take place this year.
"The situation is worse than it was last year. Longer lines, more inflation, more shortages, more insecurity, more corruption," López says in the video, in which he calls for a "massive and peaceful" nationwide march on May 30. Lopez has been in prison for more than a year on charges of conspiring to overthrow the Venezuelan government, but he claims that he only organized peaceful rallies in which Venezuelans voiced their discontent with the government's economic policies and called for President Maduro's resignation.
The opposition coalition López's party belongs to did not officially endorse Saturday's rally, claiming that it only supports these sorts of events when they have been discussed by Venezuela's multiple opposition parties.
Thousands of demonstrators took to the streets on Saturday nevertheless, suggesting that Lopez, whose contact with the outside world is extremely limited, is still an influential voice in Venezuelan politics.
Here are some photos from different Venezuelan cities on May 30.
Caracas

Mérida
Maracaibo

Valencia

San Cristóbal
Students in Mérida said that they could relate with López's call for action because some of their colleagues have also been persecuted by authorities.
A group of students from the University of Los Andes Faculty of Law marched with portraits of Villca Fernández, a political science student who has been in hiding for more than a year.
"The government has issued an arrest warrant against Villca…they've gone after him because he has taken a radical position to what is happening here," said Daniel Briceño, a student leader.
Fernández made international headlines in 2011 when he sewed his lips partially shut as part of a hunger strike calling for increased university budgets.
Marissa de Fonseca, a member of the Vente movement, helped to carry a 20-foot-wide banner that called for the liberation of Franklyn Hernández, an activist from Mérida who has been in prison since January.
The governments accuses Hernandez of hatching a plan to "generate violence" in Venezuela by capitalizing on discontent with the country's struggling economy. "Those accusations are based on a phone call they tapped, that's not enough to jail a person," De Fonseca said. "We've even asked to see his case file and that request has been denied to us," she said.
De Fonseca was pleased with the turnout for Saturday's March. Around 5,000 people showed up in Mérida. "Venezuelans must not buy into the system of fear that the government is trying to set up here," she said. "We need to pick up some bravery, courage, and head to the street. That's all."
Bad at filling out bios seeks same.
Manuel Rueda is a correspondent for Fusion, covering Mexico and South America. He travels from donkey festivals, to salsa clubs to steamy places with cartel activity.