Eleven months into his administration, Venezuelan President Nicolas Maduro faces mounting protests that could be driving the country onto the edge of outright civil unrest.
On Wednesday, an estimated 10,000 people attended what opposition members called a peaceful protest. In response, Maduro launched a counter-protest. The resulting clashes left at least three confirmed dead in the capital— two members of the opposition and one pro-government protester.
On Thursday night, the opposition organized a a nationwide "cacerolazo", a protest where individuals bang pots-and-pans in solidarity with a cause.
With most local opposition stations shut down by the government, local media coverage of the protests was limited. Protesters took to Twitter to document the day's events.
RT TO THIS PLEASE WE NEED HELP AND JUSTICE #SOSVenezuela #PrayForVenezuela pic.twitter.com/2Yp9ccPwZ7— #PRAYFORVENEZUELA (@narrypxrn) February 13, 2014
G/O Media may get a commission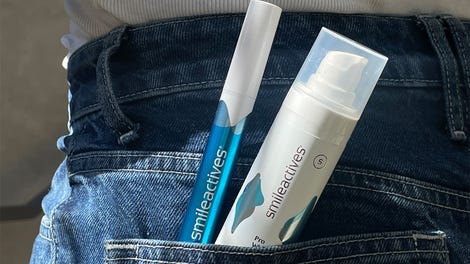 58% off
Whitening Powerhouse Pen & Gel Duo
Members of the Venezuelan community in Miami, which includes around 100,000 people, also expressed their concern with events happening at home. Fusion anchor Mariana Atencio, a native of Caracas, posted the following video on Facebook.
On Wednesday, former presidential candidate Henrique Capriles (who lost to Maduro) joined the protesters in the streets to show support."I call on the government to stop its repression and violence against the youth who are protesting in the streets of Venezuela," Capriles told protesters according to the Miami Herald.
In total 23 people were injured, and 25 were arrested during Wednesday's events. In the fallout, Maduro's administration has ordered the arrest of opposition leader Leopoldo Lopez, who helped organize the recent string of protests. Maduro has also issued a ban on street protests in the wake of the deaths.
Both sides are blaming one another for the escalating violence and potential of further destabilizing the country.
For now, the situation in Venezuela appears calm. Maduro addressed the nation on Thursday night, calling for a "dialogue", and said that he would lay out a plan for living in peace on Valentine's Day. Further violence, he said, would not be tolerated. "We have had a lot of patience with them," he said according to Venezuela Analysis. "Should I allow them to burn, to destroy this country?"
Opposition to Maduro's presidency have been mounting since he was elected in April of last year. They cite tactics like closing down the Miami Consulate where many registered citizens could vote. As a result, thousands of registered, mostly opposition voters in South Florida had to travel to New Orleans in order to cast a vote. Locally many claim that the election was riddled with fraud, or that individuals were coerced into voting for Maduro. Nevertheless, Venezuela's non-partisan National Electoral Council audited 54% of the vote, and concluded that Maduro had indeed won the election.
In January, Maduro was embarrassed at the opening of the "Serie del Caribe" Caribbean baseball tournament, which was actually hosted by Venezuela on Margarita Island.
When Maduro was introduced, he was met by a chant of "fuera", or "get out" in front of a delegations from hemispheric allies like Cuba. Many criticized the administration afterwards for playing recorded cheers over the chant on official broadcasts, in an attempt to drown out the dissent.
Daniel Rivero is a producer/reporter for Fusion who focuses on police and justice issues. He also skateboards, does a bunch of arts related things on his off time, and likes Cuban coffee.