CARACAS— Thousands of anti-government protesters took to the streets of Venezuela's capital today in what was probably a dress rehearsal for a massive march on the presidential palace scheduled for Nov. 3.
The South American country has been suffering from a crippling economic crisis for two years, and is now reeling from a worsening political crisis after government officials recently suspended a campaign for a recall referendum against embattled President Nicolas Maduro.
Many of the protesters who gathered for today's demonstration described the cancellation of the referendum effort as proof that Venezuela has abandoned the last vestiges of democracy and gone full dictatorship. With the option for a vote off the table, protesters say they will sustain pressure in the streets in a final push to remove the country's unpopular government and put Venezuela back on a path towards economic recovery.
Wednesday's march on Caracas ended peacefully, but with calls for a general strike on Friday followed by a massive nationwide protest march next week.
G/O Media may get a commission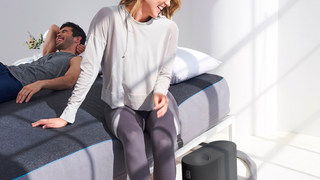 Eight Sleep Pod Cover
"Our main weapon was voting at the polls, and now that's been taken away," said Maria Pinto, a demonstrator holding a sign calling President Maduro a dictator.
Pinto said she struggles every month to buy adult diapers for her mother, who suffers from Alzheimer's. A pack of six diapers currently costs about half the minimum wage in Venezuela.
"We are dying slowly here, and the world needs to know it," she said.
Venezuelan government officials last week suspended a signature-collection campaign to organize a recall referendum against the president. The government claims that opposition parties were forging signatures during the referendum drive.
The decision to cancel the no-confidence vote was made by a court system that's under the firm control of the ruling socialist party. Officialist judges have consistently blocked laws passed by the opposition-controlled National Assembly.
The opposition has responded to the cancellation of the referendum by launching impeachment proceedings against Maduro in the National Assembly. Lawmakers have also asked for international organizations such as the Organization of American States (OAS) to evoke the Democratic Charter, essentially declaring Venezuela a dictatorship and pariah in the hemisphere.
At the same time, the opposition has started to ratchet up pressure in the streets. On Wednesday some 100,000 protesters filed down a large highway in Caracas in a protest called "the takeover" of Venezuela.
As opposition leaders took turns on the microphone from atop of a truck equipped with large speakers, protesters chanted the name of Venezuela's presidential palace, urging the march organizers to unleash the angry crowd on the palace gates. Some people in the crowd complained that the opposition leadership wasn't being aggressive enough.
"They should be calling on people to occupy streets and stay there until the government is gone,"  said Manuel Pino, a young activist for Voluntad Popular party. "That's how they did it in Egypt and Ukraine."
"Ghandi and Martin Luther King managed to change things by keeping people on the streets," said Maria Gabriela Ramos, a law student who attended the march with a large contingent of students from her university. "As students we are willing to stay on the streets as long as is necessary."
Opposition leaders, however, called for restraint. And that may have spared the demonstrators from violence. Previous marches on government buildings, including the presidential palace, have been met with police violence and attacks from armed pro-government thugs.
Indeed protests in the cities of San Cristobal, Merida and Maracaibo were met with violence on Wednesday. Preliminary reports claim up to thirty demonstrators were injured in San Cristobal as pro government thugs and police clashed with protesters, while in Merida up to 50 protesters may have been injured by attacks. At least five people were shot and injured in Maracaibo.
The Caracas march, which was being closely followed by foreign media outlets lacked such dramatic scenes. But it may be the final calm before the storm, as opposition leaders call for a massive march on Miraflores palace next week, in addition to the nationwide strike on Friday.
Delaying the march could also be a negotiation tactic. It gives the opposition a card to pressure the government during potential negotiations that both sides have been talking about this week. It also gives the opposition a full week to organize its assault on Miraflores.
"We need to give our companions from elsewhere in Venezuela the chance to express themselves…and join us as well," said opposition leader and former presidential candidate Henrique Capriles.
The students, who have been increasingly active on the streets following the suspension of the referendum, are also gearing up for battle.
"You need some time to prepare to face your opponent," said Ramos, the law student. "But I think that the streets will be the only way out of this mess."
Manuel Rueda is a correspondent for Fusion, covering Mexico and South America. He travels from donkey festivals, to salsa clubs to steamy places with cartel activity.