A female former employee of Vice Media alleged widespread pay discrimination in a lawsuit filed Tuesday in Los Angeles, yet another blow for the media company as it attempts to escape its reputation as a toxic workplace.
The suit was filed on behalf of Elizabeth Rose, who worked for the multibillion-dollar media conglomerate from 2014 to 2016 in its New York and Los Angeles offices. It argues Vice violated equal pay laws in New York in California, in addition to the Federal Equal Pay Act, and seeks class-action status for upward of 700 current and former female Vice employees.
"[Vice]'s female employees face discrimination in pay, promotions, and other unequal opportunities int he terms and conditions of their employment," the suit claims. "Through formal policies and widespread practices, [Vice]'s male leadership interferes with, limits, or prevents female employees from receiving equal pay for equal or substantially similar work compared to their male counterparts."
The suit describes how Rose, who worked as a channel and project manager, obtained documentation of pay disparity while at work:
In or around 2015, Vice Media and Live Nation partnered to launch a joint digital venture to produce music-focused content for a variety of platforms. As part of her job, [Rose] received internal memoranda that listed the salaries of approximately 35 Vice Media employees. [Rose] learned that she and other female employees made far less than male employees for the same or substantially similar work. For example, [Rose] hired her male subordinate, but she learned that this male employee earned approximately $25,000 per year more than her. This male employee quickly rose through the ranks and was later promoted to a position as [Rose]'s supervisor by the male executive overseeing the Live Nation joint venture, who told [Rose] that the male employee was a "good personality fit" for male clients at Live Nation.
G/O Media may get a commission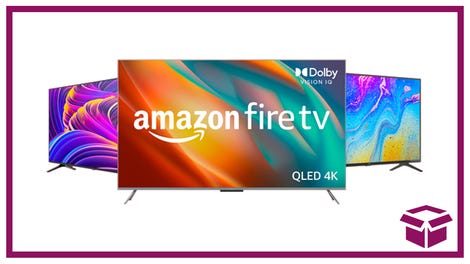 Ooh. stunning.
New Amazon Fire TVs
Rose subsequently spoke with other women on staff "who also confirmed they were paid less than male counterparts," the lawsuit said. The complaint seeks compensatory damages, adjusted wages to make up for the allegedly discriminatory pay structures, and an end to those practices.
"Our investigation has uncovered significant evidence that Vice made a conscious decision to pay more money to its male employees than its female employees who worked in similar positions performing the same or substantially similar work," Rose's attorney, Michael Morrison, said in a statement. "This result is not surprising given the male dominated leadership structure at Vice and the public allegations of rampant gender discrimination and harassment as reported by The New York Times last year."
That Times investigation, published in December, outlined a culture of harassment at the media company—including multiple settlements with female employees—even as it's positioned itself to investors as a forward-thinking, progressive media outfit for a new generation. "From the top down, we have failed as a company to create a safe and inclusive workplace where everyone, especially women, can feel respected and thrive," Smith and Alvi acknowledged in a Dec. 23 note to staffers following the Times story.
Several current and former employees told Splinter in January that white male colleagues are typically favored for higher salaries and promotions. This power imbalance potentially exacerbated harassment problems, they added, speaking on the condition of anonymity for fear of professional repercussions or Vice's enforcement of non-disclosure agreements.
In their note to staff, Vice founders Shane Smith and Suroosh Alvi promised that "we have committed to pay parity by the end of 2018," among other improvements to workplace culture.

Rose's lawsuit also comes less than a week after The Wall Street Journal reported that the venture capital-backed startup missed its 2017 revenue targets by more than $100 million. This latest round of internal turmoil would seem to make an initial public offering (IPO) by Vice Media this year even more unlikely.
Update, 4:20 p.m. EST: A Vice spokesperson told Splinter in an email that "we have just been made aware of the complaint and are reviewing it."
"As a company, we have made a significant commitment to a respectful, inclusive and equal workplace," the spokesperson added. "That commitment includes a pay parity audit started last year, a goal of 50/50 female/male representation at every level by 2020, and the formation of a Diversity & Inclusion Advisory Board."
Read the full lawsuit, filed in Los Angeles County Superior Court, below:

Know more about Vice's workplace culture? Email me (david.uberti@splinternews.com) or send Splinter an anonymous tip (tips@splinternews.com).