Nine Cuban migrants are being processed in Florida after their makeshift raft beached on Key Biscayne Tuesday. The migrants, all in their 20s and 40s, landed in front of Mar-Azul, a private condominium in Miami, with nothing but the soaked shirts on their backs.
see exclusive video:
The steel raft, fashioned out of an old dump truck and equipped with a diesel engine, survived several days of stormy seas with 10-13 foot waves, according to the Cubans.
The condo's management and local beachgoers celebrated the men's unexpected arrival as the they climbed off their raft and were greeted by a condo worker who opened the doors to the facility and gave the men water as they waited for immigration and customs agents to arrive.
G/O Media may get a commission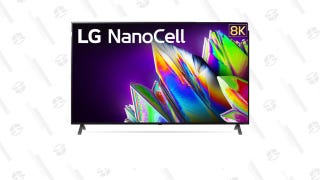 LG 75-Inch 8K TV
"Welcome to the land of the free," the condo worker is heard telling the men in this video published by Miami Herald. "How many hours were you at sea?"
"Hours? Days! We were lost at sea for ten days," the Cubans reply.
The men told reporters they packed 300 gallons of water, estimating that their trip would take two weeks. On their sixth day they began to run low on fuel and dumped food and a sail from the raft, and began rowing to save their fuel for the final stretch.
More than 780 Cuban migrants have made it to South Florida beaches since the start of the fiscal year— more than twice as many as last year.
The men have been released to the immigration and refugee program. Under the U.S.'s wet-feet/dry-feet policy, the men can apply for permanent residency after a year.
At a press conference in Doral, FL yesterday, one of the Cuban men, 23-year-old Jose Ramon Fuente, told the Associated Press that a lot of Cubans on the island are "making rafts" these days in preparation for making the journey.  His advice to them? "I would advise them that it's dangerous," he said. "We made it by a miracle."
Romina Puga is a pop culture reporter and producer for Fusion. You can find her on "Fusion Now," Fusion's daily TV updates, going over new movies, music, apps, and why D'Angelo is still sexy.