Protesters at a Donald Trump rally in Boca Raton, Fla., Sunday night claim they were targeted for their race by local police and campaign staff working the event.
Jasmen Rogers, a member of the Black Lives Matter Alliance of Broward County, told me that she and her fellow activists had no intention of disrupting Trump's remarks, and were instead planning to distribute popsicle sticks and signs with "Love trumps hate" written on them.
But she said it was clear that officers were not allowing black people into the event while white protesters were apparently allowed entry. Eventually, Rogers told me, her group retreated to the event's "free speech zone," which a cop said the group was "lucky to have."
"It was upsetting, to see we were singled out like that with no real basis to it. It was very, very upsetting," Rogers told me. "But immediately after that, being with a group that was spreading a message of love…it felt good. I feel encouraged."
G/O Media may get a commission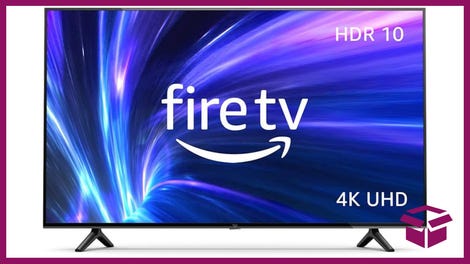 42% Off
Amazon Fire TV 50" 4K Smart TV
A video of the exchange was posted to Facebook by a man identifying himself as Peter Da More, who is white. He declined to give his age.
From the video:

Cop: If you're here to protest or voice your opinion or any of that, there's an area outside you're more than welcome to go over to, but you can't be on this property here.

Rogers: But we have tickets to the event.

Cop: Does not matter ma'am.

Rogers: But you don't even know we're here to protest.

Cop: Does not matter.

Da More: So she's black and she's wearing something on her head and she has tickets and you're not letting her in.

Cop: Where did you hear me say that?

Da More: Isn't that what you implied?

Cop: The campaign has told us that they don't want them on the property.

Da More: Who is 'them'?

Cop: This group right here.

Da More: What if I have tickets?

Cop: If the campaign tells me that you can't go in, then you can't go in.

Da More: All right, I'm here to protest, and I have tickets.

Cop: OK.

Rogers: So he gets to go in?
The Sun Sentinel confirmed that Rogers and more than two-dozen other Black Lives Matter Alliance of Broward County reps were denied entry, despite having tickets. Instead, they were ushered to the protest area.
Jeremy Shaw, 26, who can be seen standing beside Rogers, told me he saw other black people who were not part of the Black Lives Matter group also get denied entry. None of the black people denied entry to the event (both affiliated with the Alliance and not), Shaw said, were wearing clothing that would have identified them as protesters. But white Alliance members were let in, he said.

"We had white comrades that they didn't assume were with us, so they just walked past and walked inside," Shaw said.
Da More told me that while he could not confirm that white people only were being allowed onto the event grounds, when fellow protesters gathered later and one asked who had been denied entry, only people of color raised their hands, he said.
"I identified myself as a protester, and he let me in," Da More said, referring to the officer in the video.
WPTV reported a "significant" police presence at the Sunset Cove Amphitheater; the Palm Beach County Sheriff's Office told the station no arrests were made but that "four people were asked to leave the rally."
Sun Sentinel reporter Mike Mayo said he was also booted from a Trump rally held at a public park Sunday evening. A Palm Beach County Sheriff's officer reportedly told him that the park was no longer public, but was instead temporarily the property of the Trump campaign.
A rep for the Palm Beach County Sheriff's office deferred all questions about the rally to the Trump campaign, which did not respond to requests for comment.
The reported events in Boca Raton on Sunday follow a series of violent events at Trump campaign stops in the past few weeks, including bloodshed in St. Louis last Friday and hundreds of protesters gathering in Chicago.
Rob covers business, economics and the environment for Fusion. He previously worked at Business Insider. He grew up in Chicago.