A video showing a trigger-happy Mexican cop unloading a clip of submachine gun bullets into a crocodile at point blank range is sparking outrage on social media and calls for justice from animal-rights advocates. Police said they killed the croc after hunting it for weeks in a pond surrounding a water treatment plant of the northern municipality of Ahome, Sinaloa.
Municipal civil protection agents reportedly attempted to capture the reptile on several occasions using nets and other traps, before resorting to the Scarface approach — a bloody execution by a hail of bullets.
Police justified the killing by arguing that the crocodile posed a risk to potential bathers during Holy Week holidays. Others, however, argue that its the gun-toting cops who pose the real risk.
Animal rights activists are calling for an investigation.
"If the animal is being assaulted, there needs to be sanctions," Angelica Simon, media coordinator for Greenpeace Mexico told Fusion, adding, "authorities also need to make sure the video is not being taken out of context."
The video shows municipal officers luring the croc to the edge of the pond using nets and bait. When the animal reaches the shallows, a policeman empties his submachine gun into the water. "He's fucked!" says someone off camera. Then a second voice shouts, "It's still alive!" Two cops then open fire on the croc's head with their pistols, administering a coup de grace.
Some Mexicans are reacting to the video with outrage. "I hope you lose your jobs for following stupid orders. You stupid fucks!" posted one YouTube user, topping a growing thread of insults and expressions of anger.
G/O Media may get a commission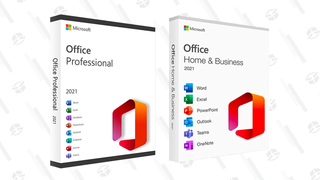 89% off
Microsoft Office Professional 2021 Lifetime License
Mexico's federal environmental protection agency (PROFEPA) has initiated a criminal investigation, but has been unable to find the remains of the animal, according to Mexican daily Excelsior.
Fusion reached out to the municipality's communication department for comment but did not receive a response by time of publication.