If you're a police officer and a calmly approaching dog scares you, it might be a good idea to reassess your career. A graphic surveillance video seems to show that exact scenario but it concludes with two dogs severely injured from gunshot wounds.
A woman from Minneapolis, MN, has accused a police officer, who was responding to a burglary alarm at her house, of shooting her two dogs over the weekend. Jennifer LeMay, a mother of four children and both dogs, posted a surveillance video to Facebook on Saturday that appears to corroborate her claim.
The video begins with an officer approaching LeMay's house to assess if it is being burglarized. Both dogs come outside calmly to see who is outside, though one dog is initially more visible in the video. The officer immediately draws his weapon as the brown and white dog, Ciroc, walks towards him. As Ciroc pauses about ten feet from the officer, he shoots the dog.

A second dog, Rocko, approaches the injured dog. As Rocko runs across the yard, the officer fires several shots at him. Both dogs eventually flee into the house and the video ends with the officer climbing over LeMay's gate to leave.

Speaking to the Star Tribune, LeMay said that one of her daughters, who triggered the alarm, witnessed the incident from her bedroom. LeMay also described her dogs' behavior:
"He was wagging his tail," LeMay said of Ciroc. "My dog wasn't even moving, lunging toward him or anything.

"My dogs were doing their job on my property," she said. "We have a right to be safe in our yard."
G/O Media may get a commission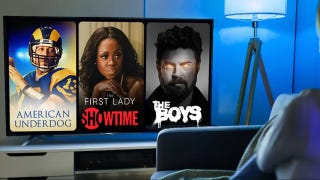 UNDER $1
99¢ Prime Video Channels
After the shooting, another officer knocked on the door and told LeMay's 18-year-old daughter to wait for animal control so they could treat both dogs; animal control never came. LeMay's daughters took Ciroc and Rocko, both Staffordshire terriers, to the hospital where they have undergone several costly procedures.
Police across the country kill so many dogs, the Justice Department described it as an epidemic. But the Justice Department, police officers, and police academies don't seem to realize that systemic fear (and racism) has produced another epidemic. But they won't describe the seemingly innumerable number of unarmed black men who are killed in America by police officers as one. Scared cops make killer cops.