Less than a week before he won Virginia's gubernatorial election last November in an unexpected landslide, Gov. Ralph Northam was asked by Norfolk TV station WAVY if he would sign a bill to ban sanctuary cities in Virginia. "If that bill comes to my desk, I sure will," Northam said, despite having cast a tie-breaking vote to stop that from happening last year. "I've always been opposed to sanctuary cities."

Northam was promptly blasted for throwing undocumented people under the bus in the face of a racist campaign ad by Republican Ed Gillespie tying undocumented immigrants to MS-13. The progressive group Democracy for America immediately announced that it would stop giving "direct aid" to Northam's campaign, and when Northam won, protesters chanting "Sanctuary for all!" disrupted his victory speech.
It appears that Northam took note. On Monday night, Northam vetoed a bill that narrowly passed both chambers of the Virginia legislature which would have done just that. The one-sentence bill said simply: "No locality shall adopt any ordinance, procedure, or policy that restricts the enforcement of federal immigration laws."
"This legislation would force local law enforcement agencies to use precious resources to perform functions that are the responsibility of federal immigration enforcement agencies. It also sends a chilling message to communities across Virginia that could have negative impacts on public safety," Northam said in a statement explaining his veto. "Localities have the right to determine whether to expend the resources and voluntarily enter into an agreement with the United States Immigration and Customs Enforcement Agency...This legislation would strip localities of that autonomy and force them to divert money and manpower away from their core public safety functions."
"Governor Ralph Northam's veto of a Republican anti-immigrant legislation, House Bill 1257, shows why elections matter and how leaders should stand up to the ongoing political attacks attempting to stoke fear over immigrants," the immigration reform group America's Voice said in a statement. "Gov. Northam reaffirmed his commitment to the people of Virginia by vetoing the bill, recognizing that it's a political issue masquerading as a policy debate."
G/O Media may get a commission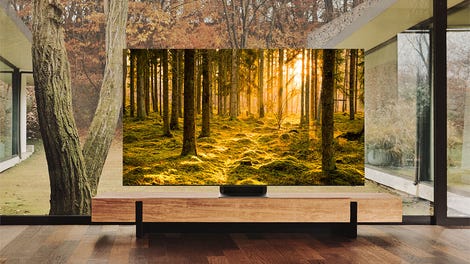 Up to 40% off
Samsung Smart TVs
"The path towards a country with the unwavering commitment to racial and economic justice that all of us deserve is littered with potholes, landmines, and wrong turns. Ultimately, we need a new generation of leaders with the lived experiences and the commitment to inclusive populism to navigate this terrain," Democracy for America executive director Charles Chamberlain said in a statement to Splinter. "Still, Gov. Ralph Northam's decision to change a misguided position he took in the closing day of his race and veto racist anti-sanctuary city legislation Republicans forced to his desk reminds us that organizers and activists who are willing to speak up for justice — especially in moments when it feels politically treacherous — and leaders who are willing to hear them can keep us moving in the right direction."
The bill was largely symbolic anyway, as Virginia has no sanctuary cities. Nonetheless, Northam's switch back to the right side of the issue reflects the growing realization among Democratic politicians that even in purple states like Virginia, their base has shifted dramatically to the left and has real power as a voting bloc. Idling in the center just won't cut it anymore.
Update, 11:40 AM ET, 04/11/2018: This post has been updated with a statement from Democracy for America.