Earlier this fall, the CW announced that it would be launching Vixen, the second spinoff show of its popular series Arrow, and the network's first superhero show starring a woman of color.
As news about Vixen began to trickle out, though, many fans were disappointed to learn that the "series" was actually a single 30-minute, animated featurette cut into five minute chunks that would only be streamed online.
Considering that Arrow's now in its fourth season and The Flash, the network's second superhero series, is in its second, Vixen's paltry half-hour long "season" almost felt like an under-budgeted afterthought.
Now though, to would appear as if the CW heard fans' collective calls for Vixen to be given her proper chance to shine. According to TV Insider, Megalyn Echikunwoke (who voices Vixen in the web series) is slated to reprise her role as the hero in an upcoming episode of Arrow.
"We're not only thrilled to be further expanding our DC television universe by bringing in the live-action incarnation of the CW Seed hit, Vixen," Arrow and The Flash executive producer Marc Guggenheim told TV Insider. "We're immensely excited that Megalyn will be revisiting her role as Mari McCabe."
G/O Media may get a commission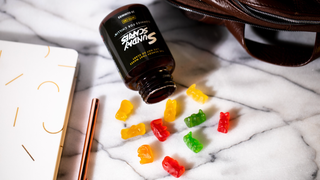 10mg CBD Gummies (22-Count)
Echikunwoke's addition to Arrow is the latest in a series of the CW's casting choices that's making its predominantly white universe of superheroes a more diverse space. Earlier this year, the CW announced its plans to introduce Mr. Terrific, an openly gay, black hero into the Arrow-verse.
Back during Vixen's initially weekly release, Black Girl Nerds EIC Jamie Broadnax took it upon herself to livetweet each episode in an effort to get the word out about the series to potential fans. The more attention the webseries got, the better the odds that the CW would eventually bring another woman of color to its lineup.
"The Arrow-verse definitely needs to step it up for women of color on screen," Broadnax told Fusion via e-mail.
In the past various women of color have played guest roles within the Arrow-verse only to disappear after a few episodes. Vixen's soft-launch as a webseries was a serviceable start to setting the character up for bigger things, but bringing her into the live-action space sends a powerful message.
"Seeing a fully realized human being in the flesh on screen as the Black superheroine Vixen is a very big deal for many black girl nerds," Broadnax explained. "It will have a significant impact in how we see ourselves on screen and also invite many of us to want to read and watch comic book genre shows."
Editor's note: an earlier version of this article's headline stated that Vixen was DC's first black superheroine. Technically speaking, this is incorrect. While Vixen was intended to be DC's first black, female superhero to star in her own series, the plans were scrapped during the great DC Implosion of 1978. Bumblebee, a member of the Teen Titans, debuted in 1976, making her DC's first black superheroine.