Former New York City Mayor Rudy Giuliani is under fire for saying that he doesn't believe President Obama loves America.
"I do not believe, and I know this is a horrible thing to say, but I do not believe that the president loves America," Giuliani (R) said during a private dinner in New York for Wisconsin Gov. Scott Walker, according to Politico. "He doesn't love you. And he doesn't love me. He wasn't brought up the way you were brought up and I was brought up through love of this country."
After Giuliani's remarks went public, the White House and Democrats ripped him for questioning the president's patriotism. Some even suggested that his comments revealed the ex-mayor's racist views. Giuliani singled out the first black president, saying that every other commander-in-chief unconditionally loved America, but "I don't feel that from President Obama."
Here's Virginia Rep. Gerry Connolly (D):
G/O Media may get a commission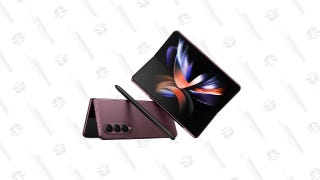 Save Up to $300
Galaxy Z Fold4
Instead of apologizing for his comments, Giuliani doubled down. He defended his belief Obama doesn't love America and said it's wrong to criticize him for being racist because Obama's mother was white.
"Some people thought it was racist — I thought that was a joke, since he was brought up by a white mother, a white grandfather, went to white schools, and most of this he learned from white people," Giuliani said in an interview with The New York Times on Thursday. "This isn't racism. This is socialism or possibly anti-colonialism."
The former mayor, however, had trouble keeping his story straight. During an interview with Bloomberg Politics, he backed off his assertion about Obama's lack of love for the U.S.
"Well actually, if I could express it more clearly, what I mean is he doesn't express it," Giuliani said Thursday. "I shouldn't say that the president does or does not love anything. I don't know, I'm not a psychiatrist, and he doesn't have one and he doesn't need one."
As for Walker, he would not weigh in on whether he believes Obama loves America.
Jordan Fabian is Fusion's politics editor, writing about campaigns, Congress, immigration, and more. When he's not working, you can find him at the ice rink or at home with his wife, Melissa.