Walmart, America's largest employer, announced on Thursday that it will be joining the ranks of companies giving employees a $1,000 bonus this year, ostensibly in response to the recently passed Republican tax plan. But there's a big catch.

In a press release, Walmart said it plans to "increase the starting wage rate for all hourly associates in the U.S. to $11, expand maternity and parental leave benefits and provide a one-time cash bonus for eligible associates of up to $1,000."
Raises and expanded parental leave benefits are good, though the raises—from either $9 or $10, depending on whether or not employees have gone through a special training program, to $11 an hour—are not massive. But the company's promise of a "one-time cash bonus" is slightly more complicated. As Walmart noted in the release:
The amount of the bonus will be based on length of service, with associates with at least 20 years qualifying for $1,000.
In other words, unless you've actually worked at Walmart for two whole decades, you're not going to be getting nearly as much money as the company's self-congratulatory release initially makes it seem. And even the full $1,000 isn't much.
In an interview, Walmart spokesman Blake Jackson explained to Splinter that the other bonus tiers are as follows, based on tenure as of Jan. 31, 2017:
G/O Media may get a commission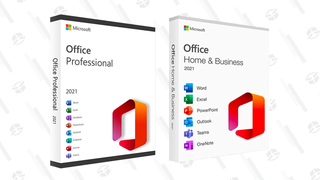 89% off
Microsoft Office Professional 2021 Lifetime License
0-2 years: $200

2-4 years: $250
5-9 years: $300
10-14 years: $400
15-19 years: $750
20 years and up: $1,000
Jackson said that the first bonus tier only applied for employees who were not benefitting from the new starting wage of $11 per hour. He also noted that the expanded parental leave, and company provided funds for employees seeking to adopt a child were available to associates regardless of their tenure.
He declined to provide the numbers of employees who would benefit from each tier of bonuses.
According to the company, the raises will cost roughly $300 million, while the bonuses will add an additional $400 million on top of that. However, when you consider of the $482 billion in sales that Walmart brought in last year, a one dollar raise and a one-off bonus for employees seems less like a full-fledged step in the right direction than it does a meek shuffle.
Update—2:15 PM: The same day Walmart announced its new wage increase and bonus structure, the company also confirmed it was closing more than 60 of its Sam's Club stores. In a statement, the company explained:
After a thorough review of our existing portfolio, we've decided to close a series of clubs and better align our locations with our strategy. Closing clubs is never easy and we're committed to working with impacted members and associates through this transition.
Thousands of Sam's Club employees will reportedly be laid off as a result of the closure.