How many times have you sat in front of your social feeds wishing there was some magical way to vanquish internet trolls? Clear your schedule and get ready to channel net artist Molly Soda:
Soda is no stranger to web wizardry; she has been sprinkling the internet with her magic for years, earning a place on the list of Most Important Artists of 2013 when she was only 24 years old. Her work often addresses issues of agency around technology from a distinctly feminist perspective. Past works have involved Soda spending a grueling ten hours reading her often painful Tumblr inbox and 'leaking' her own nude selfies overlaid with vulnerable text.
Her latest effort, Virtual Spellbook, published on net art platform NewHive this week, uses animation and incantation to bring some historically feminine power to bare on technological spaces.
A spell for better selfies asks you to trap a video of yourself bathing in glitter, never deleting it, and never sending it, begging us to question the value of an act versus the intended digital outcome. (It also begs the question of how to de-glitter yourself once you're out of the tub.) Social media sells the promise of being whatever we want to be, but the nipple bans and hurtful words we encounter on social media platforms can leave one feeling more policed than empowered. Soda offers a way for users to reclaim their command over the virtual environment, while cheekily pointing out just how trivial some of our digital desires might be.
G/O Media may get a commission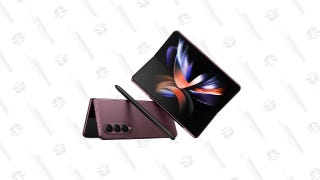 Save Up to $300
Galaxy Z Fold4
I for one am most excited to try out the spell for getting the username you really want ( no numbers or underscores!). I just need to figure out where to find a printer first.
Cara Rose DeFabio is a pop addicted, emoji fluent, transmedia artist, focusing on live events as an experience designer for Real Future.