Every week, people across the country are taking action to resist the Trump administration. In red states and blue states, in cities and towns, in every corner of America, millions have decided to fight back.
At Fusion, we've decided to highlight some of the countless protests taking place around the U.S. every week, so that you can inform yourself about what's going on in your area.
Here's what's happening this week. All times listed are local.

All Week
This week, the 115th Congress is recess. The goal of recess is to get back to the local community and to see what constituents want. In response, MoveOn.org has launched Resistance Recess–a tool that helps users find town halls and open meetings their senators and representatives are holding in their home state.
The Town Hall Project is also aggregating locations, dates, and times of town halls, searchable by zip code.
And people are definitely going to these town halls. They're making themselves heard so forcefully that one GOP congressman compared them to a "lynch mob."
G/O Media may get a commission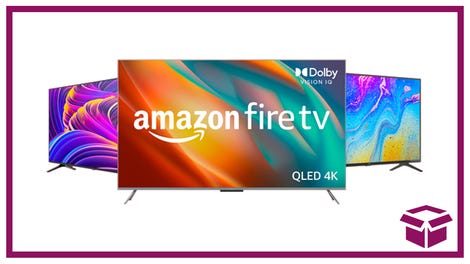 Ooh. stunning.
New Amazon Fire TVs
However, some politicians are not hosting public town halls. In response, Resistance Recess is also gathering information for "empty seat" town hall meetings, where concerned community members will moderate their own discussions and have invited their representatives to join them.
One such place is Jackson, Wyoming.
Frustrated that Senators Mike Enzi and John Barrasso, and the state's lone House member, Liz Cheney (all Republicans) have reportedly not scheduled any town hall meetings, constituents in Jackson, Wyoming will hold their own town hall at the Teton County Library Ordway Auditorium on Feb. 24 at 4:30 pm, and are inviting the members of Congress to join. "If they won't show up, there will be an empty chair to represent them at the meeting," organizers wrote on the event's Resistance Recess page. "But the public can still voice their concerns and the event will be filmed."

February 22
Stop the Raids: Elizabeth, NJ
Elizabeth Detention Center
11 AM
Immigrant organization Make the Road NY has been busy since Trump's inauguration, putting together marches and rallies to oppose the Dakota Access Pipeline, the Keystone Pipeline, the Muslim ban, the refugee ban, Uber, and ICE. The group will host its next rally in Elizabeth, NJ. "We say #NoBanNoWallNoRaids," the organization wrote on Twitter. "WE ARE #HeretoStay!"
Make Mitch Listen: Louisville, KY
Marriott Louisville East
11 AM
According to the Kentucky Democratic Party, Senate Majority Leader Mitch McConnell (R-KY) has been avoiding protesters at various public events around Kentucky. In an effort to #DitchMitch, the Kentucky Democratic Party is encouraging protesters to gather outside one of McConnell's speaking engagements.
Indivisible Town Hall: New York, NY
2 W 64th Street
7 PM

Activism is more than just hitting the streets with your clever protest signs. It also involves getting informed about issues that affect your community–and other communities. The NYC chapter of Indivisible and the New York Society for Ethical Culture are teaming up to host a town hall. The goal? To learn about the challenges facing reproductive rights, religious freedom in the age of the Muslim ban, the environment, healthcare, LGBTQ rights, and more.
February 23
Vigil for Immigrant Families: Austin, TX
Texas State Capitol
6:30 PM
Immigrants United will host a candlelight vigil outside of the Texas State Capitol. "As parents, taxpayers, and hardworking people, we make Texas better, yet elected officials at the highest level of office demonize our communities and tear our families apart," organizers wrote in both English and Spanish on the event's Facebook page. "Our children are the future of this state and we stand united to demand dignity and respect. Stand in solidarity with us at this candlelight vigil."
Over 1,000 people have said they were interested in attending.
February 25
LGBTQIA March & Rally: St. Louis, MO
Union Station
12 PM
According to the event organizers, there are multiple anti-LGBTQ bills being considered in Missouri, including bathroom bills and bills that could threaten same-sex couples' right to marry.
The Philly Healthcare Rally – Defend the ACA: Philadelphia, PA
Thomas Paine Plaza
12 PM
Senators Bernie Sanders (I-VT) and Chuck Schumer (D-NY) put out a call for pro-Affordable Care Act rallies around the country. In Philadelphia, Senator Bob Casey (D-PA) and state senator Daylin Leach (D-Montgomery) will speak to activists and advocates in a last stand for the Affordable Care Act on the final day before congress returns to D.C. from recess. Over 400 people have said they will attend the event, which was organized by Women's March Pennsylvania.
Dress Like A Woman: Seattle, WA
Westlake Park
4 PM
Women for Washington, who are organizing the event, are encouraging participants to dress "like a woman" (meaning however they like) as they march against "sexism, racial inequality, rape culture, pay inequality, hate crime and discrimination in the LGBTQ community, the discrimination of Immigrants and refugees, domestic violence and for women's rights."
Queer and Trans Dance Party/Protest: New York, NY
Trump Tower New York
7:30 PM
Organizers say this party/protest outside of Trump Tower is inspired by the Queer Dance Party at Vice President Mike Pence's house and the Queer Rager in Philadelphia. "We stand united against homophobia, transphobia, ableism, racism, sexism, Islamophobia, and anti-semitism," the organizers wrote on Facebook. "We reject Trump's tirade of hatred and bigotry. We envision a brighter future. Want to join the resistance? All you have to do is show up and DANCE!!"