There will be no more government executions in the state of Washington. On Thursday afternoon, the Washington State Supreme Court ruled that the death penalty was unconstitutional and immediately commuted the sentences of eight men on death row. They will serve life in prison, but will not be killed.
The decision marks the end of a long road to abolishing capital punishment in the state. The Washington State Senate voted in February to pass a law abolishing the death penalty, but the bill failed to make it through the House. The state hasn't executed anyone since 2010, thanks in part due to a moratorium placed on the practice by Governor Jay Inslee in 2014.
The Washington Supreme Court's decision was forceful and pointed, specifically citing a 2014 study that found that jurors were four times as likely to sentence someone to death if they were black.
Here's what the Justices had to say, per the majority opinion filing (emphasis mine):
As noted by appellant, the use of the death penalty is unequally applied—sometimes by where the crime took place, or the county of residence, or the available budgetary resources at any given point in time, or the race of the defendant. The death penalty, as administered in our state, fails to serve any legitimate penological goal; thus, it violates article I, section 14 of our state constitution.
G/O Media may get a commission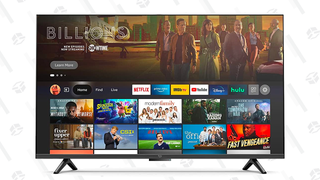 22% off
Amazon Fire TV - 50" Omni Series 4K - Early Access Deal
Washington is the 20th state in the nation to outlaw capital punishment. State lawmakers on both sides of the aisle seem adamant about keeping it from making a comeback.
"We've made some mistakes and put innocent people to death," Republican Senator Maureen Walsh said after the State Senate vote earlier this year. "And we frankly, again, are in a very disproportionate world where certain applications of justice are applied to some but not the others."
And more, per the New York Times:
Mr. Inslee said in a news conference that he would veto any bill that attempted to reinstate the death penalty or to fix the flaws outlined by the justices. And the state attorney general, Bob Ferguson, a Democrat, said the court's decision would reinvigorate his efforts to urge lawmakers to permanently repeal the death penalty from statute books.

"We should act quickly to remove the death penalty from state law once and for all," he said in a statement. "Next session, I will again propose legislation repealing the death penalty, replacing it with life in prison without the possibility of parole."

The Supreme Court's decision stemmed from an appeal from Allen Eugene Gregory, who was convicted of the rape, robbery and murder of a woman named Geneine Harshfield in 1996. Gregory, a black man has been on death row since 2001. He will now live the rest of his life in prison.