In another episode of Twilight Zone: Trump's America, pro-Trump demonstrators in Austin, TX greeted a Mexican-American Trump supporter by spontaneously bursting into chants of "Build That Wall!" Someone, somewhere, had to have been thinking, "Idiots, she's one of us."
The Saturday event in Austin was part of the "Spirit of America Rallies" organized by the group Main Street Patriots. Similar rallies were held in 32 other states and Washington, D.C., to "show support for President Trump's 'Contract with the American Voter,'" according to the organizers' website.
Austin American-Statesman reporter Taylor Goldenstein live–tweeted the event, which drew about 300 people, according to police. When an invited speaker and recently naturalized Mexican–American Trump supporter—identified only as María de Jesús—took the megaphone, the #March4Trump crowd responded by loudly calling for a border wall.
María de Jesús, who apparently represents a group called Latino Trump Coalition USA, appears to have quickly pacified the situation by getting everyone to sing the National Anthem.
Watch:
G/O Media may get a commission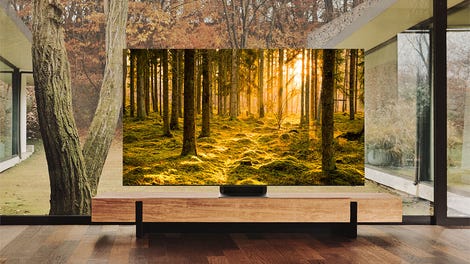 Up to 40% off
Samsung Smart TVs
Later, police were forced to intervene when a heated confrontation broke out between #March4Trump supporters and anti-Trump protesters, with one goateed Trump fanatic strangely barking like a dog.
Trump supporters then marched to the state Capitol, where some of them began yelling at counter-protesters, "Deport you!"—which, apparently, wasn't the intent of Main Street Patriots, who promised the rallies would be "positive, patriotic, uplifting, and open to anyone that supports an America First agenda."