The 89th White House Correspondents' Dinner just happened, and, as is par for the course, the comedic monologues were easily the most enjoyable moments of the event.
Cecily Strong, the unmatched cornerstone of "SNL"'s current character performers and only the fourth woman to have ever hosted the dinner, absolutely made her mark. She boldly talked about police brutality, women's rights, and so much more.
Here's everything you need to see, starting with Cecily's Best Jokes.
• "Feels right to have a woman follow President Obama, doesn't it?"
• "You might remember me from 'SNL' or as that ethnically ambiguous girl on every college brochure. I'm sort of a mashup of every person in Hillary's announcement video."
G/O Media may get a commission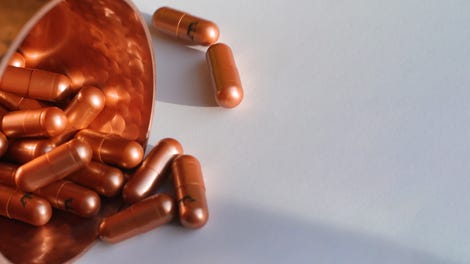 health
The Lyma Supplement
• "The secret service is the only law enforcement to face repercussions if a Black man gets shot"
• "Rand Paul has taken over the family business of not being president. And it's Rand. Like, 'he didn't get elected, but at least he Rand.'"
• "Just comforting to know that whenever a big story breaks, I can turn to CNN and watch Anthony Bourdain eat a cricket."
• "It's 2015, and there's still characters like Don Lemon on TV."
• "I love Hobby Lobby. I went there this morning and bought a wicker basket to hold my morning after pills."
• "'It's an honor to be here at the Washington Hilton'…is something a prostitute might say to a congressman."
• "Fox News has been losing a lot of viewers lately, and may they rest in peace."
• "Repeat after me: 'I solemnly swear not to talk about Hillary's appearance, because that isn't journalism.'"
• "[To President Obama] Your hair's so white, it can talk back to the police."
• "Thanks to the White House Correspondents' Association? Whatever that is."
President Obama's Best Bits
• "I think Dick Cheney is the worst president of my lifetime."
• "I have something that rhymes with 'bucket list.'"
• "I look so old, John Boehner's already invited Netanyahu to speak at my funeral."
• "[On Joe Biden] We've gotten so close, there are some places in Indiana where they won't serve us pizza anymore."
• "Some people say I'm arrogant, aloof, condescending. Some people are so dumb."
• "[On Ted Cruz] When a guy on a 'hope' poster says you're self-centered, you've got a problem."
• "Donald Trump is here…still……………………….. ANYWAYS…"
Enough solid jokes to last us until next year's dinner.
Akilah Hughes is a comedian, YouTuber, and staff writer and producer for Fusion's culture section. You can almost always find her waxing poetic about memes and using too many emojis. 🍕