Congratulations! You are exactly five years older than you were when Watch the Throne was released on August 8, 2011. Kanye West and Jay Z's joint album debuted at number one on the Billboard Top 200 chart and broke iTunes' previous one-week sales record, held for three years by Coldplay (lol).
In addition to launching a massively successful co-headlining world tour, Watch the Throne was nominated for the Grammy for Best Rap Album, although it lost the category to West's solo album My Beautiful Dark Twisted Fantasy. The single "Niggas in Paris" peaked at number five on the Billboard Hot 100, later winning the Grammy for Best Rap Performance, and who could forget comedian Aziz Ansari's cameo in the video for "Otis"?
Since August 2011, it's as if we've entered a new era of human history. Here's a brief refresher as to everything that hadn't happened yet when Watch the Throne came out.
👑 Jay Z and Beyoncé's daughter Blue Ivy hadn't been born, but she had already been conceived—see you on January 7, 2012, Blue! In fact, Bey hadn't even announced her pregnancy when Watch the Throne was released. That would come less than three weeks later, on stage at the 2011 VMAs, via the belly rub seen round the world.
G/O Media may get a commission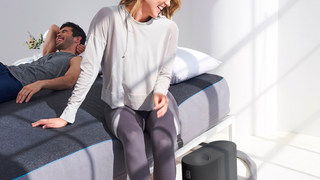 Eight Sleep Pod Cover
👑 Neither of Kanye West and Kim Kardashian's children, North (June 15, 2013) and Saint (December 5, 2015), had been born. Their parents weren't even together yet. True love would have to wait until April 2012, when Kanye and Kim would start publicly dating. The couple wed in May 2014, before an intimate gathering of friends, family, and gold-plated toilets.
👑 When Watch the Throne dropped, Kim Kardashian was actually engaged to marry NBA player Kris Humphries. Kardashian and the then-New Jersey (!) Net would tie the knot less than two weeks later, on August 20, 2011, and Kim filed for divorce just 72 days after that. We are not saying that the dissolution of this union is why the team decamped for Brooklyn (where Jay Z would soon become their most prominent investor), but we're also not not saying it.
👑 Beyoncé's sister Solange hadn't attacked Jay in an elevator at the Met Ball. That CCTV clip, which is no doubt by now the subject of at least three doctoral theses, would leak in May 2014. Becky With the Good Hair's whereabouts? Unknown.
👑 Beyoncé wouldn't surprise-drop her self-titled visual album until December 2013, and Jay Z wouldn't embark on the "On the Run" tour with his wife until the summer of 2014. Both Roc Nation Sports (founded in 2013) and Tidal (acquired in 2015) were but a glimmer in Jay's eye.
👑 Kanye still hadn't had his first fashion show. That would come with the debut of Dw by Kanye West, a.k.a. Yeezy Season 0, at Paris Fashion Week in October 2011. A platinum blonde Lindsay Lohan, who had completed her house arrest for stealing jewelry just a few months earlier, watched from the front row.
👑 Kanye had interrupted Taylor Swift on the 2009 VMAs, but given that Snapchat wouldn't be released until the month after Watch the Throne dropped, we could hardly have imagined the fate that would befall the pop star's reputation in July 2016.
👑 Jay Z has released just one LP since August 2011: Magna Carta Holy Grail (2013). Kanye West has released two: Yeezus (2013) and The Life of Pablo (2016). Remember when Jay Z made music?
Molly Fitzpatrick is senior editor of Fusion's Pop & Culture section. Her interests include movies about movies, TV shows about TV shows, and movies about TV shows, but not so much TV shows about movies.