On July 24, Ilia Calderon, an Afro-Latina reporter from Colombia, became the first black person to set foot on Amanda and Christopher Baker's property. The Bakers are leaders of the KKK's "Loyal White Knights" and the exchanges between them and Calderon, whom they called a "nigger" and threatened to burn, wound up going viral.
The clips were part of a special, "En la boca del lobo"—literally, "in the mouth of the wolf"—that aired on Univision last Sunday. (Splinter is part of the Gizmodo Media Group, which is a subsidiary of Univision.) However, portions of the interview had already spread like wildfire on social media following the deadly white supremacist rally in Charlottesville, Virginia on August 12.

Despite being told that a woman of color was going to be conducting the interview, the Bakers were shocked to find out Calderon would be the one sitting opposite them.
Their exchanges were tense and, at many points, downright appalling. In one particularly stunning moment, immediately after calling white people "his people," Barker—the head of a KKK chapter—denied that he's a racist.
Calderon was calm but forceful. When Christopher said that he would "burn out" her and others like her, Calderon hit back.
G/O Media may get a commission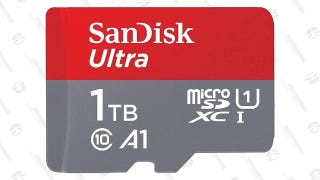 Save $75
SanDisk Ultra 1TB MicroSDXC Card
"How are you going to do it? How are you going to do it with 11 million immigrants?"
While speaking to Calderon, Amanda tried to walk back Christopher's comments, asserting that the White Knights were not violent and did not condone violence. She usually did this right before or after Chris made a violent statement.

"He did wrong, I will say that," Amanda said about Dylann Roof, the white supremacist who killed 9 black parishioners in Charleston, SC. "He should have went to a drug dealing neighborhood with the brick apartments and all them black people standing out there selling all them kids drugs, he should have fired on them."
"That is violence too," Calderon, pointed out. "And you just told me that you don't condone violence."
Calderon talked about her experiences with Univision's Jorge Ramos, acknowledging that there were "many moments" she felt bad and that her team felt bad for her. In fact, a couple of cameramen reportedly wanted to stop the interview, but Univision producer María Martínez-Guzmán chose to keep the exchange going.

Univision faced criticism online for its decision to have Calderon face the torrent of abuse she did. Critics also chastised the network for giving a platform to white supremacists.
But, as Calderon said in her interview with Ramos, "we stayed because that's what millions of people experience every day and we need to show it to the world."