As the Texas state legislature prepared to consider a bill which would punish so-called "sanctuary cities" that refuse to cooperate with federal immigration officials, a nine-year-old boy movingly explained to a crowd outside how the threats to immigrants posed by both the bill and the current political climate have done lasting damage to his family.
The Texas House of Representatives' State Affairs committee was expected to hear testimony Wednesday about the bill, known as SB 4. Already, the bill has drawn protests from hundreds of people who lined up to testify against it when it was being considered by the state Senate last month.
Texas Governor Greg Abbott has said in the past that he considers banning sanctuary cities an emergency item.
At a rally outside of the State Capitol in Austin on Wednesday, the boy, who was introduced as Sergio, bravely explained the harmful effect SB 4 could have on families like his.
Here are excerpts of his speech:

I came to talk about something very serious today. I came to talk about immigration.

I am nine-years-old and I'm the youngest of five brothers. As the son of an immigrant, I live in constant fear that my family will be taken away from me. In the last couple of weeks, ICE has been seen taking good people away from their children. Kids have lost their parents …

I fortunately haven't lost my parents, but still it feels like I have.
He began to choke up as he explained that even though all his parents want is to see their children grow up, they now live in fear that their family will be torn apart. They're afraid to leave the house to get food, he told the crowd.
They act very differently. Every time they leave the house they say goodbye, as if it was the last time. For us, it could be. I don't even know if my family would be there today when I get back home.
G/O Media may get a commission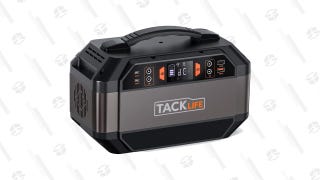 Tacklife Portable Solar Generator
At this point, the crowd began to chant in support of the brave nine-year-old. He continued:
As a family we used to go out to restaurants and the park on weekends, but now if we go out, we make sure not to go too far from home.

We were just trying to survive … We are afraid to go to school, to go outside. We are afraid to ask the police for help. I hope my testimony affects everyone, for some people are lucky enough to have their parents.

But for some children, their parents will never be able to come back. It's because of the law we will lose more than you can imagine. We will lose our moms and dads, our feeling of safety, our trust in you and the law. We will lose our homes. What will you do for us then?
Before closing, he posed a question to the group gathered.
Which one of you would want to be separated from your family because of a law?
You can watch all of his remarks, as well as other opponents' speeches, in the United We Dream live stream below. He begins speaking at about 8:30.