Farmer Derek Klingenberg is one of those internet-famous oddballs who puts his own, localized spin on emergent viral videos — a kind of agricultural Weird Al. He's done the nae nae next to cows, written a farm-themed parody of "What Does the Fox Say," and turned "Thrift Shop" into a song about cattle ranching.
So it's not entirely surprising that Farmer Derek is also behind a recent viral YouTube video, which shows him catching a fish with a DJI Phantom 2 quadcopter drone.
Klingenberg told Popular Science that he caught the fish, a bluegill, in about 10 minutes "because there were a bunch of them in the lake and they bit pretty quick." Commenters are debating whether the catch captured on the video is real or not. But the video clearly shows the bobber attached to the line being jerked around under the water's surface. So we're going to assume it's either an authentic catch or a very labor-intensive stunt.
After the catch, the fish is flown by the drone into Farmer Derek's waiting hands.
G/O Media may get a commission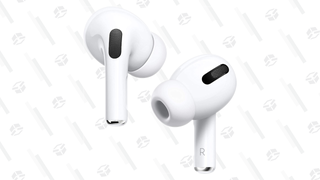 28% Off
Apple AirPods Pro Wireless Earbuds
And then there's the necessary selfie, making the catch official.