If there's one thing women like, it's being told that the gender pay gap is actually good.
That scenario played out at a meeting of the European Parliament on Wednesday, when Janusz Korwin-Mikke, a far-right member from Poland, started lecturing his fellow members about why "women must earn less than men."
"Do you know where the highest-placed girl came in the Polish Physics Olympiad? 800. Do you know how many women are in the top-100 chess players in the world. I'll tell you: none," Korwin-Mikke said.
He continued: "And of course women must earn less than men because they are weaker, they are smaller, they are less intelligent. They must earn less. That is all."
G/O Media may get a commission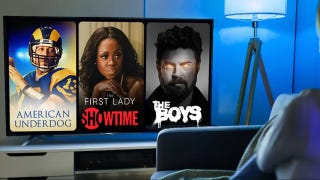 UNDER $1
99¢ Prime Video Channels
Hard to argue with that iron-clad logic!
Let's take it to Iratxe García Pérez, a socialist MEP from Spain, for the withering rebuttal.
"Look, according to your theory, I should not have the right to be here, as a member of this parliament," she said, according to a translated video from CNN. "I know it hurts and worries you that today women can sit in this house and represent European citizens with the same rights as you."
"I am here to defend all European women from men like you," Pérez finished, basically dropping the mic.
Let's go back to Korwin-Mikke, who was once punished for doing a Nazi salute and using the N-word to refer to unemployed youth, for the reaction:
Just brutal.