Texas sportscaster Dale Hansen is the kind of ally trans athletes need right now.
In recent segment on WFAA-TV called "Hansen Unplugged," Hansen made a devastating case about the Texas policy that prevented local 17-year-old high school wrestler Mack Beggs from competing against boys.
While Beggs himself wanted to wrestle against male competitors, he was not allowed to because of a University Interscholastic League policy that looks to birth certificates to determine the genders of competitors.
Hansen challenged viewers to respect Beggs' request, even if they do not understand it themselves.
"We have argued long enough about birth certificates. It's an argument that needs to end. You don't have to understand—I myself don't understand," Hansen said. "But Mack Beggs is not the problem so many people make him out to be. He's a child simply looking for his place in the world, and a chance to compete in the world.
G/O Media may get a commission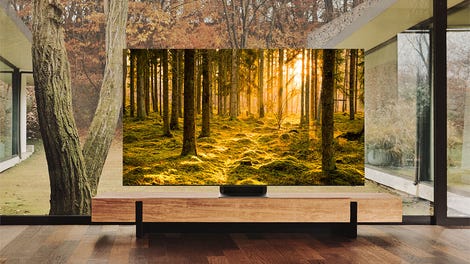 Up to 40% off
Samsung Smart TVs
"Do we really not have the simple decency to allow him at least that," Hansen asked. "Because it seems to me it's the very least we can do."
Hansen's criticism of the UIL decision which forced Beggs to face female competitors–some of whom forfeited–comes at a time when trans students' rights are under threat. The Trump administration has already taken away federal guidelines that protect trans students' access to bathrooms.
In an interview with ESPN, Beggs explained that he is on the lowest dose of testosterone possible so as to not have an unfair advantage while he's forced to wrestle female competitors.
"I know they want to pursue wrestling careers and I want to pursue a wrestling career, but I also want to do it fairly," Beggs said. "I don't want to cheat. I don't cheat. That's not something I do."
Beggs explained that in the future, he would prefer to take larger doses of testosterone. He told ESPN he would also like to compete against fellow male wrestlers.
"Because I'm a guy," Beggs said. "It just makes more sense."
In the "Unplugged" segment, Hansen seemed to support Beggs' request.
"Transitioning is a struggle I cannot imagine. It is a journey I could not make… and it is a life that too many cannot live," Hansen said on Texas TV. "The problems that Mack Beggs is facing and dealing with now remind me again that I don't have any problems. He needs our support, and he does not need a group of old men in Austin telling him who to wrestle because of a genetic mix-up at birth."