Whoopi Goldberg got into a wild shouting match with Fox News host (and President Trump ultra-loyalist) Jeanine Pirro on Thursday's edition of The View. The whole thing ended with Goldberg essentially kicking Pirro off the show—and then the two reportedly got into an even bigger fight backstage.
Pirro was on to promote her book Liars, Leakers and Liberals. While she was talking about her book, she also praised the Trump administration effusively, which is a thing she likes to do. That obviously set off some disagreement with Goldberg, which got Pirro riled up.
"You're suffering from Trump Derangement Syndrome," Pirro told Goldberg, pointing rudely at her.
At that point, Goldberg had enough.
"Listen, I don't have Trump Derangement," she said. "Let me tell you what I have... I'm tired of people starting a conversation with Mexicans are liars and rapists." (Pirro was still smiling through all of this in the most annoyingly smug way possible.)
"Listen, I'm 62 years old. There have been a lot of people in office that I didn't agree with. But I have never, ever seen anything like this. I have never seen anybody whip up such hate. I have never seen anybody be so dismissive," Goldberg continued. That's when the shouting match escalated even further.
Pirro responded, "You know what's horrible? When people who shouldn't be here end up murdering the children of American citizens."
G/O Media may get a commission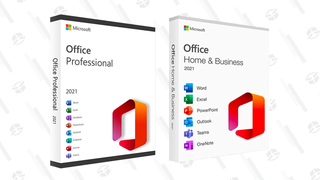 89% off
Microsoft Office Professional 2021 Lifetime License
"What's horrible is when the president of the United States whips up people to beat the hell out of people," Goldberg shouted over Pirro, before ending the segment by yelling, "Say goodbye, bye! I'm done."
The crowd went wild. But according to Page Six, it only got crazier from there:
Backstage when the two crossed paths, a source told us, "Jeanine tried telling her she's fought for victims her whole life." That's when "Whoopi got in her face and said that they've known each other a long time, but still, 'F–k you, get the f–k out of this building.' Jeanine looked stunned."
We have reached out to ABC for comment and will update this story if we hear back.