At the Women in the World summit earlier this week, writer and director Ava DuVernay said that a woman making a film is a radical act. When moderator Jon Stewart asked the panel about what it's like to step into a male-dominated area, DuVernay said that she doesn't feel like she's been let into something, and that her success so far does not equal future work in the same way it does for her male counterparts.

As a woman who has made three narrative feature films and a handful of docs, we all have to start again from zero, every time, whereas my white male counterparts don't have to start from zero every time. And so I think to be let in is to just know what you're doing two years from now, because you know there's going to be something else there. And for women filmmakers, that's not the case.
According to Variety, a recent study commissioned by the Sundance Institute and Women in Film backs up this notion. After studying the distribution deals for films coming out of Sundance over a period of 12 years, the results show that the ratio of male-to-female directed movies in the competition was about 3 to 1.

…the ratio of male-to-female directed movies in competition at the Sundance fest from 2002 to 2014 was about 3 to 1. By contrast, for the top 1,300 highest-grossing pics released from 2002 to 2014, the ratio was a little more than 23 to 1.
Among the findings, we can gauge the significant effect of gender when it comes to who is behind the camera. The following two are the most disturbing points:

Movies with a female director (70.2%) were more likely than movies with a male director (56.9%) to be distributed by independent companies with fewer financial resources and lower industry clout. Male-directed films (43.1%) were more likely than female-directed films (29.8%) to receive distribution from a studio specialty arm or mini-major.
The director gender gap is at its widest in top-grossing films. Across 1,300 top-grossing films from 2002 to 2014, only 4.1 percent of all directors  were female.
But it doesn't get much better when you talk to the 39 men and 20 women surveyed:

44% said female directors are perceived to make films for a subset and/or less significant portion of the marketplace.
25% cited women's perceived lack of ambition in taking on directing jobs.
22% cited the skewed representation of women in decision-making roles in the industry as a factor in limiting job opportunities for female directors.
12% cited the belief that women "can't handle" certain types of films or aspects of production, such as commanding a large crew.
G/O Media may get a commission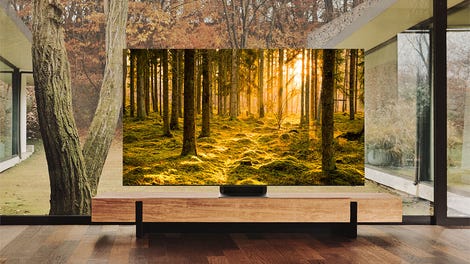 Up to 40% off
Samsung Smart TVs
Why aren't more people uncomfortable with these figures? When stark data shows such gross inequality, why aren't more people compelled to act?  During the Women in the World session, filmmaker Sharmeen Obeid-Chinoy said the answer might be found in  discomfort.

It should make you uncomfortable, because you have to change your attitude. It's only when you're uncomfortable, when you're shifty, that you have to have difficult conversations, that you will perhaps look at yourself in the mirror and not like the reflection.
Danielle Henderson is a lapsed academic, heavy metal karaoke machine, and culture editor at Fusion. She enjoys thinking about how race, gender, and sexuality shape our cultural narratives, but not in a boring way.