We've all done it: watched one of President Donald Trump's vitriolic hatefest campaign rallies on television and wondered who all of the people so enthusiastically cheering in the background are.
Now we know what happens when one of Trump's TV props doesn't toe the line: They get the boot. But before they do, they're creepily investigated online by Trump staffers. And remember what the president himself told us back in July: "What you're seeing and what you're reading is not what's happening."
World: Meet 17-year-old high school senior Tyler Linfesty, otherwise known as the "plaid shirt guy." His perturbed facial expressions during a Trump rally in Montana this week succinctly captured the sentiment of a great majority of the nation as he went viral on social media.
Linfesty, who seemed almost diplomatic about the entire ordeal, has explained to several media outlets that he had been invited to the event earlier in the week as a VIP guest. He brought a couple of friends, all seniors at Billings West High School.
The Billings Gazette describes what happened:
Not long after Trump took the podium Thursday night at MetraPark, social media cued into Linfesty's puzzled facial expressions, visible just over Trump's right shoulder.

All three West seniors were ultimately asked to vacate their seats midway through the event by people they believe are Trump campaign staffers. By the end of the rally, the 17-year-olds achieved viral fame on social media.
G/O Media may get a commission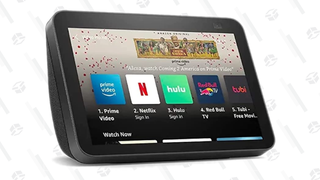 Linfesty said later that he had gone into the event with somewhat of an open mind, despite his wearing a Democratic Socialists of America emblem, and that he "was just going to clap for things I agreed with and not clap for things I didn't agree with."
But Trump staffers already were eyeballing him. According to the Gazette:
Early on in the Trump rally, a Billings Gazette reporter saw staffers in the press pen looking at a photo in which Linfesty was circled.

Later Linfesty pinned a stylized rose emblem representing the Democratic Socialists of America to his right breast. The same group of staffers reviewed a photo of the emblem and searched online for more information. A short while later, Linfesty was removed.

"I saw this woman walking toward me on the left," he said. "She just said to me, 'I'm going to replace you.'"
He was then interviewed by the Secret Service for 10 minutes and asked to leave. Linfesty and his friends were replaced by two smiling staffers.
"I think I know why they removed me," Linfesty told The Hill. "Before the rally, they told us that, you know, you have to be enthusiastic, you have to be clapping, you have to be cheering for Donald Trump. And I wasn't doing that, because I wasn't enthusiastic.

"So, the woman, she came in and she just said, 'I'm gonna replace you.'"
Which is the same thing, hopefully, the country soon will do to Donald Trump and his GOP enablers.
Watch: