WASHINGTON— Protesters supporting the Deferred Action for Childhood Arrivals parched marched down Pennsylvania Avenue from the White House to the Trump International Hotel on Tuesday, before marching to the headquarters of Immigration and Customs Enforcement.
Sister Anne Curtis of St. Camillus Church in Silver Spring, Maryland, was protesting with two other nuns. As the marchers turned onto Constitution Avenue, she described the crowd's reaction when the Trump administration came out with its official decision on Tuesday to end the Deferred Action for Childhood Arrivals.
"It was silence, just silence. And tears started falling down faces," she said.
---
Eliseo Magos came to the United States from Mexico in 2007, when he was 11 years old, with his two younger brothers. At the protest, he wore a T-shirt bearing his own quote: "My victories are dreams that I never gave up."

Magos applied for DACA in 2012 and received it, as did his two teenage brothers. DACA was life-changing for him. He was able to get a better job, go to college to study animal behavior, and buy a car. At 21, he had saved up enough money to buy a house for his family in Maryland. He told me he wants to become a veterinary assistant.
G/O Media may get a commission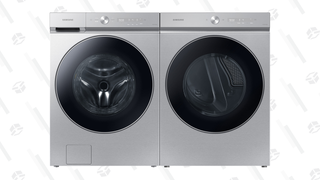 Get $500 back in credit
Last Chance: Samsung Bespoke AI Washer and Dryer Preorder
"We are not criminals or rapists. We are here to contribute to this country," he said.

---
On Wednesday, Rep. Steve King, R-Iowa, said young undocumented immigrants living in the United States—going to school, making friends, working shitty jobs, applying to college, trying to stay safe and make their parents proud—deserve to "live in the shadows." But those young immigrants have shown they intend to make themselves more visible than ever in the coming months.
Jesús Perez, 25, came to the United States from Mexico when he was five years old, along with his mother and three younger siblings. He said that the Trump administration had neglected not just the personal costs of its decision, but the political costs as well.
"For this administration, they might feel like, 'Oh, we won.' But no, this is just going to gear us up," he said. "It's just the beginning."

---
Juan Cruz, 29, was 12 when his parents brought him to the United States from Peru in 2001. They rented a room from a friend in Laurel, Maryland, and had started going through the legal immigration process. Then 9/11 happened.

"They just wanted me to have better opportunities, like any other immigrant in the history of the United States," he said. "They're saying that even if you do all the right things, it still isn't good enough."
Cruz became got his green card in 2013 after marrying his wife. He said if he hadn't met his wife when he did, he would have been eligible for DACA.
"A country is as healthy as its policies, and how they treat their people," he said. "What does this say about America?"

---
George (not his real name) came to the U.S. from Cameroon last year after receiving threats from Cameroonian government officials. Cameroon is engaged in a civil crisis between the French-speaking government and the citizens of Cameroon's English-speaking regions, who wish to secede.
In the English-speaking regions of Cameroon, schools have been closed for months. The Francophone government has implemented an internet blackout in English-speaking regions as part of its efforts to delegitimize their efforts to secede.

George doesn't have a job yet, but is applying for a work permit and staying at his uncle's house in Rockville, Maryland. When he needs work, he goes to the offices of the Latino advocacy organization CASA of Maryland. Some days, people come to the parking lot looking for people to clean their house, do yard work, or other manual labor. Other days, no one comes by. His wife is still in Cameroon.

Despite the Trump administration's decision, George said he still felt more protected living in the United States as an undocumented immigrant than he did in his home country. It was worth the risk to come over.
He pulled up a blurry video on his phone. The video was taken in Kumba, an English-speaking city in southwest Cameroon. In the video, there is the sound of gunshots, with people running away from them. Local news outlets reported that government gendarmes killed three people.
"This is what just happened yesterday," he said.
Asked if he thinks he made the right choice coming to the U.S., George gestured toward the crowd of protesters.

"Yes, because if you were in my country, they would have just sent in militia," he said. "Here it is just peaceful demonstration."
He added that he doesn't think Donald Trump is necessarily a bad president, but "he's not patient."
"He doesn't have pity for the families being separated," George said.
---
Raquel Ramirez, 20, was born in the United States. Her parents, who are undocumented, came to the U.S. from Mexico in 1996. Her father started working at low-paying fast food jobs, and worked his way up to becoming a head chef at a seafood restaurant in Baltimore. Ramirez's mother works a minimum wage job at a factory making boxes.
Ramirez is taking classes at the Community College of Baltimore County, and volunteers for CASA's after-school program in her free time. She said she worries about her friends who are undocumented, and about her parents.
"They're in the process of buying a house. They pay taxes," she said. "They're hard-working people, just like anyone else."
---
Noemi Lopez went to Washington to join the protest in front of the ICE headquarters. She came to the United States from Mexico in 2006 with her infant son. Her son is now 12 years old, attending middle school in Pennsylvania. He will no longer be protected from deportation under DACA.
"I don't know how to protect him," Lopez said. "I don't know."

Asked what she was feeling, Lopez said, "Miedo, estrés... y coraje." Fear, stress and courage.

I asked what she, given the opportunity, would say to Donald Trump and Jeff Sessions.
"Que no tienen corazón," she said. "Somos humanos, y a qualque ellos?"