FLINT, Mich.—Like many residents here, Rhonda Kelso keeps a single plastic bottle of the old Flint River tap water. She filled it up back in August, at the height of the city's water problems, and there's a swirl of brown particles that float at the bottom. When you shake the bottle, they become a disgusting little tornado.
Many locals still have at least one of these bottles that they bring out to show visitors or hold aloft at protests—part keepsake, part criminal evidence.
"They poisoned the whole town," Kelso told me one night last week in her sparsely decorated and dimly lit living room. In the corner, like many houses around town, there's a stack of bottled water.
Her living room has long, heavy curtains that block out the view. There isn't much to see: Her house, in an old neighborhood of generous front porches, is one of only a few left standing on this side of the block. The rest are bulldozed, vacant lots blanketed by snow.
As Kelso, 52, and other lifelong Flint residents explained to me, you can't understand the water crisis here without a broader picture of the city's history: the glory days when it built cars for the entire country, the economic decline that has crippled its ability to respond to the crisis, and the state's history of butting in with emergency managers. This is where General Motors and the American labor movement was born. Now, its residents are gripped by a profound distrust in their government that caused this man-made disaster.
G/O Media may get a commission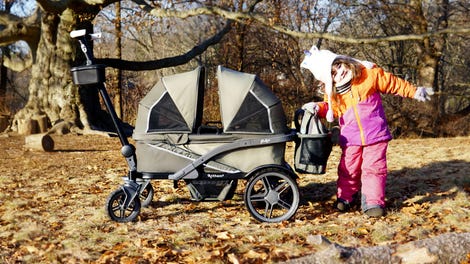 30% off
The Anthem All-Terrain Stroller Wagon Adventure Bundle
Go everywhere with your kids
This must-have bundle nets you either of Gladly's award-winning Anthem2 or Anthem4 All-Terrain Stroller Wagons as well as must-have accessories like a parent cupholder, a removable storage basket, extra-large canopies, a nap system, quilted comfort seats, a cooler bag with a padded shoulder strap, and a travel bag.
Kelso, who has stringy blond hair and a loud laugh, speaks in a measured, thoughtful pace. But sometimes she speeds up, her words jumbling together in anger. You notice it when she talks about her daughter Kaylynn, 12, who contracted lead poisoning last year. Doctors say even the smallest levels of lead in children can have lifelong effects on their mental development.
"They poisoned my daughter, and they poisoned the town," she repeated. "We have a legacy here, we have a legacy to uphold, and this is a crime that has been committed on our legacy."

💧💧💧
Kelso was born in St. Louis in 1963, in a colored hospital, during the last days of Jim Crow. Her family moved to Flint later that year, just days after President Kennedy was shot.
"We was moving away from segregation up here," she said. "At the time Flint was progressive, it was just getting over segregation."
A big part of that was General Motors. The auto giant was founded in Flint in 1908, and was headquartered there until the '20s, when it moved to Detroit. (Its founder, who lost control of the company, later ran a bowling alley in Flint.) In 1937, strikers sat down on their jobs and won concessions from the company. They empowered the United Auto Workers union, the first national labor union, which has been a strong force in the town ever since.
Kelso's father got an assembly line job at Buick, part of GM. "Everyone worked in the shop, it was multiethnic in the shop," she said. "Everybody had a job, they had kids in private school, they let ladies do the work that men did." Her husband's aunt was one of the first women supervisors in the company.
Most of the workers lived in the same neighborhood where Kelso grew up, with the company's former world headquarters "walking distance" away. Thing were far from perfect—she would get harassed by white people while walking to school. But in the black community, "everybody helped everybody, that's how I grew up," she said. It was a close-knit neighborhood, with family living across the street and her future husband—now deceased—around the corner. "I knew my husband all my life since I was five," she said.
She grew up during the Civil Rights era, and remembers neighbors staging sleep-ins at city hall to protest redlining and housing discrimination. "People don't understand how hard we've been fighting for our very lives in Flint," Kelso said.

💧💧💧
The glory days of the city's manufacturing boom didn't last, of course. Here are the most important set of numbers you need to know about Flint: In 1960 the city had almost 200,000 people; now it's below 100,000. In the '70s there were 80,000 jobs at the GM plants alone; now there are fewer than 8,000.
One of those lost jobs belonged to Scott Kincaid. For almost a decade, he was a tool and die maker at a plant on the city's south side. That meant that he designed the die that stamped the metal that formed fenders, doors, trunks, and hoods. If you own a GM car of a certain year, he probably designed the tool that helped shape its fender.
"I put the creases in them, put the detail in them," he told me. "We would stamp out the part and then I could go out to the assembly line and watch them put it on the car."
When the plant closed in 1987, he moved over to the United Auto Workers union, where he helped his laid-off coworkers find other jobs at GM plants around the state and the country, or get training to start another career.
We spoke one evening last week in the empty office of the local UAW branch. Everyone had gone home except for Kincaid, 63, who had spent the day driving around delivering bottles of water to people in his neighborhood. There was still a huge stack of bottled water packages in the corner of the union's grand old meeting hall, which has black-and-white photos of strikes behind a glass cabinet on one wall.
Kincaid, a tall guy with big hands and a doughy face, had a solid middle-class upbringing on the other side of town from Kelso, going to the same elementary school his parents went to and where his kids go now—a school with one of the highest lead rates in the city. "Flint was a great place to raise a family," he said. "Real family-oriented."
The decline of the auto industry hit the city hard. GM restructured, technology made more assembly line jobs obsolete, and "there was that huge sucking sound of jobs that went to Mexico," Kincaid said. When the plants closed, "it was devastating," he said. "People felt hopeless."
By then, Kincaid had been elected to his first term on the city council, where he's served for the last 30 years. He's lived and worked in the ward he's represented his entire life—from caddying on a golf course to GM to the UAW. And his experience on the council has given him an inside view on forces that led to the water crisis. "This is a man-made crisis that should have never happened," he said.
As a way of explanation, he spread out a big map of the city on a wood table, holding it down with tape and a couple of plastic water bottles. The map showed every single property lot in the city, with forceclosed and vacant lots outlined in purple. On some blocks, every single lot was purple.
"You look at that, and you say, wow, every one of those properties used to pay property taxes and every one of those residents used to pay income taxes," Kincaid said. "That's what we're dealing with as a community."

He traced a finger on the map over the big empty gray spaces where the GM plants used to be—now empty lots. Not too far away, there was Kelso's house on Grace Street, tucked between little purple squares.
💧💧💧
Without that property and income tax revenue, Flint's government was running on empty. Young people were leaving town, either to bigger cities or to the suburbs, where the housing market was strong and schools were better. A lot of people left live on fixed income from their pensions. (Kelso is living on a pension from the school system and disability payments.) To make things worse, the state ended a program in which it gave back a portion of state taxes to local governments.
The city started having a hard time paying its bills. The state appointed its first emergency manager in 2002 for a couple years, under a law that gave them limited authority.
Then in 2011, the state legislature adopted Public Act 4, which let Gov. Rick Snyder appoint emergency managers for cities who could do essentially whatever they wanted: sell off city assets, cut costs, exit contracts, and raise revenue with fees. A series of emergency managers Snyder sent to Flint made drastic cuts, including to the police force. Residents had no illusions about what was going on: "It was taking away my rights to say anything about what they were doing downtown," Kelso said.
As property and income tax revenues cratered, water bills were among the only consistent sources of revenue for the city. In 2010, the mayor hiked the water rates by 35%, and in 2011, the emergency manager at the time raised them again by 22%. Money was taken out of the water and sewer fund and used for general obligations—police, fire, the other things that make a city run, according to several city council members and lawyers who've studied the city budget.
That passed the costs on to residents, who pay among the highest water rates in the country. Kelso pays $150 to $200 a month. "We are paying for poison," she says, accentuating the n: poison-nnnn.
Ironically, this financial mismanagement—raiding the water fund to pay for other obligations—was one of the reasons the state justified putting in an emergency manager in the first place.
As one cost-cutting measure, the emergency manager decided to leave the pricey Detroit water system, switching to water from the local Flint river, which residents knew as a dumping ground. City officials didn't spend the necessary $100 a day for 90 days on anti-corrosion chemicals, which was what led to the lead-contaminated drinking water. State officials didn't require the testing, and the federal EPA didn't enforce laws mandating it.
Kincaid said there was no way the city council or mayor would have ever switched to the river if the emergency manager wasn't in place. "We had a clean source of water, why would we change?" he said. "We had no power, we had no authority… The power and the authority lies with the emergency manager."

💧💧💧
Kelso calls the day that the city switched its water supply in April 2014 "the day they turned the poison on." Of course, back then, she didn't think her tap water was poison. "We expected that they were treating it," she said. "We expected that they did their jobs."
At first, her whole family was drinking the tapwater. They started to see problems: Her hair shed. Her philodendrons died. Her pipes clogged. Kaylynn, who already has a heart condition and a hearing disorder, started coming down with more ear infections.
Last spring, Kelso put in a filter and started drinking only bottled water. Now they brush their teeth in the kitchen, where the filter is, or with bottled water. Until recently, when the Red Cross began delivering them, she's been spending hundreds of dollars a month on bottled water and filters. She's still recovering from a stroke in 2013, and walks slowly with a cane.
But the filter was too late: She tested Kaylynn, a quiet kid with a quick grin, last August, and she came back positive for lead exposure. Kelso didn't believe it, and tested her again. Positive.
"You don't want to feel like you're a failure because you can't protect your child," she said. "I couldn't protect my child from a poisoned water supply."
Kelso thinks the whole thing would never happen in a city that wasn't majority black and 40% poor. Or at least people would have paid attention sooner to the protests residents have been leading for the past year and a half. "We've been jumping up and down about this since last year," Kelso said. After her church stopped performing baptisms with the water, she even tweeted at Pope Francis. He didn't respond, but more recently she was tweeted at by Cher, which is almost as cool.
I asked her what she thought should happen now. "A crime has been committed. Somebody needs to go to jail," she said. When she got a phone call telling her that Susan Hedman, an EPA official, had resigned, she did a little dance in her seat.
Kelso is fighting back in her own way. She's one of the first plaintiffs in a class-action lawsuit against the city and the state, which names the governor as a defendant. It argues that the city—and the state-appointed emergency manager—broke a contract with the residents by replacing their clean tap water with lead-contaminated water while still charging them for it. Her lawyer thinks thousands of people could be eligible to join in the suit.
"They think all of us are poor and uneducated," Kelso said. "They think we're disposable. And we're not."

💧💧💧
What's in the future for Flint? Some longtime residents are packing up and leaving. Others want to stay and fight.
Kincaid is encouraged by the community coming together, people donating water, helping their neighbors, and standing up for their rights. "I still believe that there's going to be light at the end of the tunnel, and I still believe that we're going to turn around," he said.
He thinks Governor Snyder should resign, and the federal government should contribute more money to Flint. "We've put millions and millions of dollars into other countries to help them rebuild, and I would hope that the federal government would look here at home and start looking at rebuilding our communities to make them viable and strong," he said.
Kelso isn't so optimistic. These days, she finds it hard to trust the government for anything. Even the bottled water delivered by the Red Cross and the National Guard is suspect. She's been calling friends about the fact that a certain batch of Niagara water bottles was recalled last year. She intently reads the product codes on the plastic bottles that are now scattered around the house, making sure that she isn't drinking poison again.
And no matter what officials say, Kelso will never drink the tap water of Flint.
"You can never drink the water again," she said. "You can never trust them. You can never trust what they say."
Casey Tolan is a National News Reporter for Fusion based in New York City.