This week, Israeli troops shot and killed dozens of Palestinians protesting along the border fence separating southern Israel from the Gaza Strip, the deadliest violence in the region since the war there in 2014.

In response, the White House has placed the blame for the massacre squarely at the feet of Gaza's Hamas government. Across the aisle, however, Democrats have for the most part been conspicuously silent about the violence. That silence has added a perceived vacuum of moral leadership from an energized left that has been increasingly demanding accountability from their elected officials on the issue of Israel and Palestine.
With that in mind, Splinter reached out to the highest-profile presumptive candidates for the Democratic Party's 2020 presidential nomination to hear where they stand on the bloodshed in Gaza this week (in addition to checking their personal and professional social media accounts). At the time of this writing, just two people on our list—Bernie Sanders and Andrew Cuomo—have made public statements. Only one other candidate largely considered a contender in the 2020 Democratic primary, Massachusetts Senator Elizabeth Warren, responded to our request for comment. Below is a list of who has spoken publicly and who we are still waiting to hear from.
---
Sen. Bernie Sanders

More than 50 killed in Gaza today and 2,000 wounded, on top of the 41 killed and more than 9,000 wounded over the past weeks. This is a staggering toll. Hamas violence does not justify Israel firing on unarmed protesters. The United States must play an aggressive role in bringing Israel, the Palestinian Authority, Egypt and the international community together to address Gaza's humanitarian crisis and stop this escalating violence.
G/O Media may get a commission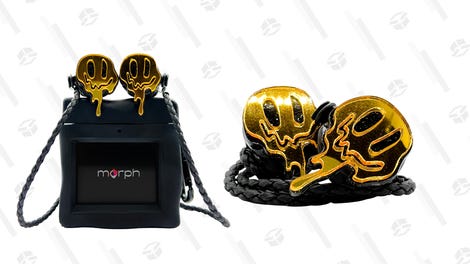 morph audio
Morph Earphones
Sanders has also written a letter to Secretary of State Mike Pompeo, urging the administration to "do more to alleviate the ongoing humanitarian crisis in the Gaza strip."
Gov. Andrew Cuomo:
Statement from Press Secretary Dani Lever:
Last week after missiles were fired toward the Golan Heights, Governor Cuomo announced a trip to visit the area and meet with Israeli leadership. Israel is now engaged on multiple fronts, including significant hostility and loss of life on the Gaza border. The Governor would like to visit both areas. We will continue to monitor the situation and will visit in the coming weeks when the active on-the-ground conflict abates and Governor Cuomo can visit both the Golan Heights area and the Gaza border.
Sen. Elizabeth Warren:
I am deeply concerned about the escalating deaths and injuries in Gaza. Israel has a right to defend itself from violence by Hamas, but it must exercise restraint against Palestinian civilians and peaceful protesters. I'm troubled by the Trump Administration's response – the U.S. should be working with Israel and the Palestinians to deescalate violence, to promote human rights, and to help achieve peace.
Senator Warren has also signed Sanders' letter requesting humanitarian action for Gaza from the Trump administration.
Splinter has yet to receive any response from the following people, all of whom have been tipped as potential candidates in 2020:
Former Vice President Joe Biden
Sen. Kirsten Gillibrand

Sen. Cory Booker

Sen. Kamala Harris

Former HUD Secretary Julian Castro

Former Attorney General Eric Holder
Former Massachusetts Governor Deval Patrick 
Los Angeles Mayor Eric Garcetti
We will update this post if we receive any responses or if any of the people on this list make a public statement about Gaza.