When Jeb Bush started speaking Spanish during his Presidential announcement speech this afternoon, he was talking to America's fast-growing Latino population—but also following the advice of Thomas Jefferson.
"When you become a public man, you may have occasion for [Spanish]," the founding father wrote in a 1785 letter to his nephew Peter Carr. "The circumstance of your possessing that language may give you a preference over other candidates."
Since Jefferson, who was not fluent himself, no other U.S. president has spoken Spanish beyond a high-school level. That could change after 2016: both Bush and Senator Marco Rubio—the two presidential candidates currently leading national polls in the Republican primary—are fluent Spanish speakers.
Bush speaks only Spanish at home with his Mexican-born wife Columba. He's hoping that his lingual skills will help him connect with Latinos, a crucial and quickly-growing part of the country's electorate.
G/O Media may get a commission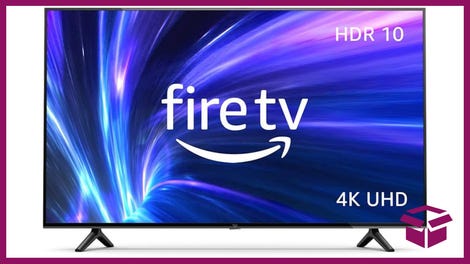 42% Off
Amazon Fire TV 50" 4K Smart TV
"Trabajen con nosotros por los valores que compartimos y para un gran futuro que es nuestro para construir para nosotros y nuestros hijos," Bush said in his speech at Miami Dade College: Work with us for the values that we share and for a great future that is ours to build for us and our children.
"I intend to let everyone hear my message, including the many who can express their love of country in a different language," he added.
While it was common for presidents in Jefferson's time to speak multiple languages (he spoke Latin, French, and Italian), monolingualism has been prevalent in the White House in recent years. No president since Franklin Roosevelt—who spoke German and French—has been fluent in any language besides English.
Jimmy Carter spoke some Spanish, while President Obama and George W. Bush have both used a few phrases in campaign ads and speeches. (Obama also speaks some Bahasa Indonesia, which he learned while spending four years in Jakarta as a boy.)
That's a far cry from the country's early history, when it was common for presidents to speak multiple languages fluently. English was a second language for Martin Van Buren, the eighth president, who grew up speaking Dutch in upstate New York.
That changed over history. As English became the global lingua franca in the twentieth century, it became less and less important for American leaders to speak other languages. The growth of directly-elected primaries led to charisma and marketing being prioritized over appeal to elites with an erudite study of languages. Meanwhile, the number of elementary and secondary schools teaching foreign languages have decreased in the last few decades, as Education Secretary Arne Duncan noted in 2010.
In recent elections, multilingualism was, bizarrely, seen as a negative. In 2004, John Kerry's fluency in French was criticized by Republicans on the campaign trail. Francophone Mitt Romney's faced similar attacks in 2012.
"There's always a hidden American fear about the 'Manchurian candidate'—the idea that someone not genuinely American would become president," Larry Sabato, the director of the University of Virginia's Center for Politics, told Mashable earlier this year.
But as the U.S. becomes more diverse lingually—the number of Americans who speak languages other than English at home is at an all-time high—it may be time to embrace bilingual candidates.
In the 2016 election, speaking Spanish will be especially important, as Latinos are one of the fastest-growing groups of voters in the country. In addition to Rubio and Bush, Senator Ted Cruz, who is also running for the Republican nomination, speaks "lousy" Spanish, he has said.
Hillary Clinton, the Democratic frontrunner, only speaks English—"I'm barely monolingual," she said at a campaign stop in April. (She did, however, have this mariachi-style Spanish campaign song in 2008.)
Language isn't as important as policy platforms and personal records, of course—despite his meagre Spanish, Obama won 71% of the Latino vote in 2012. Notably, Bush and Rubio oppose Obama's policy deferring deportations for young undocumented immigrants, which is highly popular among Latinos.
Back in his day, Thomas Jefferson often evangelized learning Spanish. "That language and the English, covering nearly the whole face of America, they should be well known to every inhabitant who means to look beyond the limits of his farm," he wrote to Carr in 1788—good advice in today's America as well.
But it's unclear how well the third president actually spoke or understood the language. Jefferson claimed to have learned it during a 19-day boat voyage to Spain with nothing but a copy of Don Quixote and a Spanish grammar book. But John Quincy Adams, who noted that anecdote in his journal, was skeptical.
"Mr. Jefferson tells large stories," he wrote.
Casey Tolan is a National News Reporter for Fusion based in New York City.